FAU Develops 'State of Downtown West Palm Beach' Report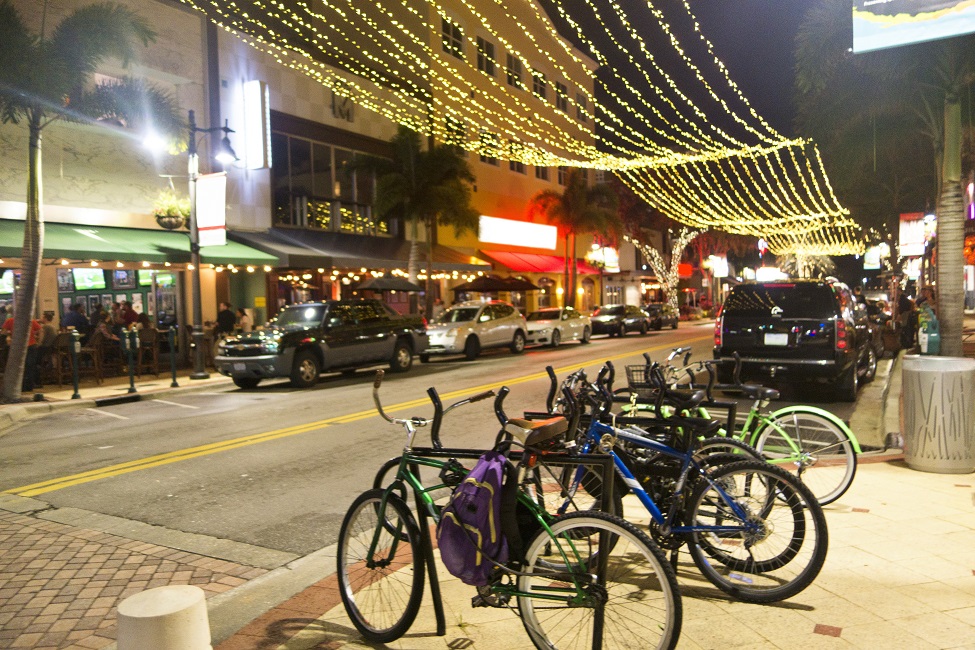 Findings from this research and report give Downtown West Palm Beach high rankings for the density of jobs plus residents, walking, and commuting by bicycle.
---
With a watchful eye on the rapid growth and development in this region, Florida Atlantic University's Center for Urban and Environmental Solutions (CUES) was contracted by the West Palm Beach Downtown Development Authority (DDA) to develop a comprehensive metrics report on Downtown West Palm Beach. The objective of "The State of Downtown 2018" report is to track progress and expansion in the area over time.
The report, prepared for the DDA by FAU's CUES within the College for Design and Social Inquiry, was recently awarded first place from Florida Festivals & Events Association (SunSational Award for Best Print Media Piece). The report compared Downtown West Palm Beach to 46 other downtowns with less than 100,000 jobs across the United States.
One of three major commercial centers in South Florida, Downtown West Palm Beach is the oldest neighborhood in the region and one of the few locations that provides a live, work, and entertainment destination in a walkable and transit-friendly environment. Downtown includes two major train stations – Tri-Rail and the Brightline high-speed rail station connecting to Fort Lauderdale and Miami.
Findings from the research and report show that Downtown West Palm Beach ranked high for intensity (density of jobs + residents), walking and commuting by bicycle. In fact, downtown received a walking score of 84 from the popular "Walk Score" –  a website that rates the walkability of communities – which means that most errands can be done by foot.
Additional key findings from the report reveal that Downtown West Palm Beach is a community that has experienced significant population growth since the turn of the 21st century. As compared to the city of West Palm Beach, downtown is significantly wealthier, younger and more highly educated. It is the densest neighborhood and has the highest shares of walk and bicycle commuting, with 15 percent of residents walking to work and 3.4 percent choosing to use a bicycle. Transit use for commuting is lower than average for the rest of the city, likely because downtown is small and compact. 
Market analysis from the report shows significant increase in home and rental values in downtown.  For-sale homes in that zip code sell for an average of $200 per square foot, according to Zillow, which was about 30 percent higher than the averages for the city and the county.
"A lot of the research that we do at the Center for Urban and Environmental Solutions is to look at how we can promote more sustainable patterns of land use and transportation," said John Renne, Ph.D., associate professor in the School of Urban and Regional Planning and director of CUES. "Our partnership with the West Palm Beach Downtown Development Authority to develop this important report is providing an objective source of information that local governments and municipalities can use to make informed decisions on issues such as traffic and parking." 
Renne notes that there is a real boom in real estate markets in areas like Downtown West Palm Beach due in large part to changing preferences among younger generations and baby boomers who are retiring and downsizing and want to live in these more walkable communities.         
Key factors identified in the report:   
With 5,936 residents, downtown accounts for 5.6 percent of the 106,659 residents of the city of West Palm Beach;
Four in 10 residents are between the ages of 25 and 44. Downtown also has a larger share of older residents aged 75 and older as compared to the city as a whole;
Approximately 54 percent of the population have earned a bachelor's degree or higher;
Downtown has 28,740 jobs, which constitutes about 30 percent of the 95,290 jobs in the city and 4 percent of the 723,346 jobs in the county.
"'The State of Downtown 2018' is an extremely valuable tool that provides important data points on the downtown district, which is the economic engine of the city," said Raphael Clemente, executive director of the West Palm Beach Downtown Development Authority. "Most importantly, for us, the value of working with Florida Atlantic University to develop this report allows us to easily communicate with our stakeholders  and investors who are looking at Downtown West Palm Beach as the place for their next development project."
FAU's CUES is focused on helping communities and decision makers resolve urban and environmental issues through partnerships, education and research throughout Florida and beyond.
For more information, contact John Renne, Ph.D., at jrenne@fau.edu or 504-717-1744, or contact Serena Hoermann at shoermann@fau.edu.  
-FAU-