Former Runner Swaps Sneakers for Lab Coat
Jana Olivova received bachelor's degrees in neuroscience and psychology from Florida Atlantic University on Tuesday, August 9.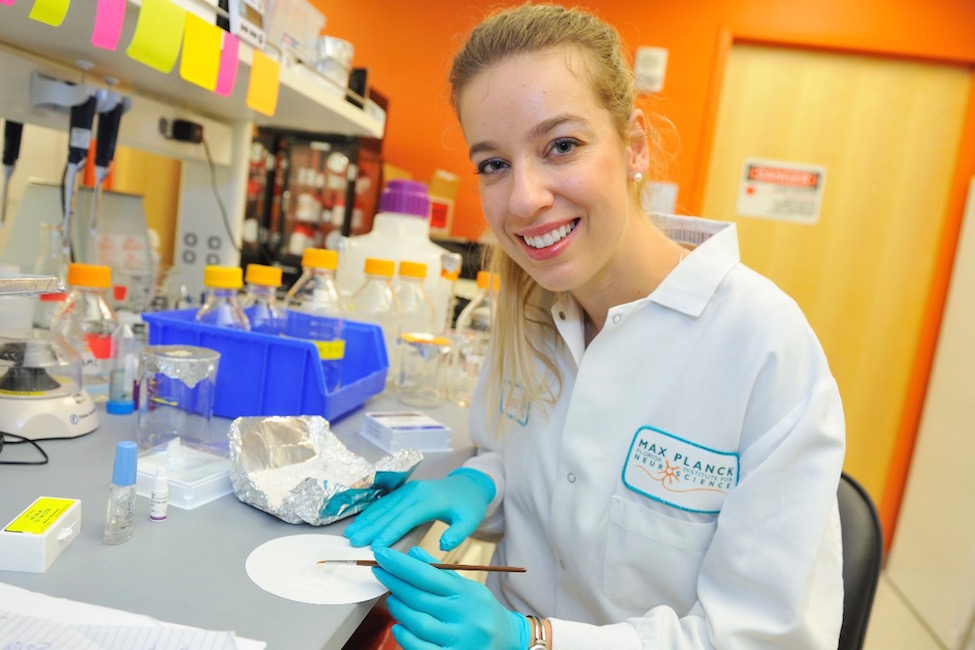 ---
By kelsie weekes | 8/10/2016
Jana Olivova is a two-time national champion runner in the Czech Republic. After many visits to South Florida to visit family and friends, she decided to trade in her running shoes for a lab coat in 2012 to study science at Florida Atlantic University. Now, four years later, Olivova has become a two-time champion yet again. She recently graduated summa cum laude with two bachelor's degrees – one in neuroscience and one in psychology.
"I started here as a psychology major, but I always had an interest in science, so I began studying neuroscience, too," she said.
Olivova, 28, soon became part of FAU's honors thesis program in biology, where she conducted independent, supervised research on the effects of hormones on mother and infant bonding. She presented her findings at numerous conferences throughout the United States, including the prestigious Second World Conference on Psychology in Chicago. Her research also was offered a publication in the Universal Journal of Psychology, where it is currently being peer reviewed. Olivova says she could not have done it without the help of her mentor, Evelyn Frazier, Ph.D., senior instructor and director of the honors thesis program in the Department of Biological Sciences.
"Dr. Frazier taught me how to get my research published, and also gave me the confidence to deliver better oral presentations at conferences," she said.
Frazier says she's impressed with Jana's dedication to her work, especially since English is Jana's second language.
"The best words to describe Jana are drive, commitment, and perseverance," Frazier said. "She was driven to succeed and committed to improving her scientific and academic skills, and she never stopped until her work was perfect."
In 2015, Olivova joined the Max Planck Florida Institute for Neuroscience (MPFI) as a Max Planck Scholar, where she gained extensive lab experience by studying motor learning behaviors in mice. She says the research can one day be used to help people who have lost their motor skills due to accidents or strokes. MPFI liked Olivova's work so much that they recently offered her a permanent job. She now serves as the main surgeon of the laboratory, where she continues to perform brain surgeries on mice.
When she's not in the lab, Olivova's other passions are teaching and volunteering. This fall, Olivova will teach a basic biology class to undergraduates at FAU.
"I absolutely love teaching," she said. "My mother and grandmother are both teachers, so it runs in my family."
Olivova has served as an FAU ambassador, a volunteer in FAU's Student Accessibility Services, and has been teaching free exercise classes to senior citizens at a local Jewish organization for the past three years.
She hopes to one day become a doctor and specialize in neurosurgery.
"FAU has been full of opportunities," she said. "I've been involved in many different things, and I've found what I truly love. No matter where I end up, I will always be an Owl."
-FAU-