FAU Tech Runway Announces Third Class of Startup Companies
Florida Atlantic University's Tech Runway has selected its third Venture Vintage class of startup companies to participate in the business accelerator program.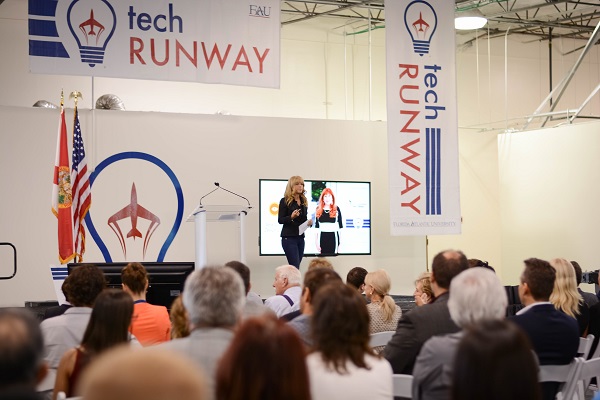 ---
Florida Atlantic University's Tech Runway has selected its third Venture Vintage class of startup companies to participate in the business accelerator program.   
The four companies will receive a $25,000 non-equity grant, participate in a 16-week intensive boot camp, and will be provided collaborative workspace for one year. The companies also participate in a formal program for mentoring entrepreneurs and their ventures. The third class of companies are:
Child Rescue Coalition is a platform and forensic tool to automate a manual process for law enforcement to help eradicate child sexual exploitation globally protecting children from predators.
Power Calc Pac is a cloud based platform patented software company which automatically designs the power distribution system in a building saving users up to 40 percent in design time and labor costs.
TiloTag developed an app that will allow you to discover memories that surround you or allow you to leave a legacy memory for friends and family to discover in the future using technology.
SoFla is a distinguishing lifestyle brand celebrating South Florida.
"FAU Tech Runway's new startups are innovative and they are excited to get started in our accelerator," said Kimberly Gramm, associate vice president of FAU Tech Runway. "They're poised to build on the success of Venture Vintage I and II."
Supported by FAU and the state of Florida, FAU Tech Runway launched in October 2014 with five companies Venture Vintage I (VVI) pilot group and added Venture Vintage II (VV2). The program is based on two proven models for startup ventures, MIT's Venture Mentoring Service and Stanford's NSF-funded Lean Launchpad curriculum. Offered in conjunction with existing resources, FAU Tech Runway provides ventures the "complete" ecosystem for successful launch.
Since October 2014, the VVI companies have reported a total funding investment of more than $1.2 million (private, self and FAU funding), 20 new jobs created and combined projected revenues of more than $3 million for Q4 2015. The five inaugural FAU Tech Runway companies recently graduated:
BedaBox is a company that simplifies shopping and shipping outside the country.
Design Comfort Shoes has a patent-pending comfort system for high-heeled shoes. 
Interact TEAM provides training, education and consulting services to the long-term care industry.
Stand4 is a social impact app that empowers users to take a stand for their favorite causes and is a website that connects individuals, charities and corporations to enhance the charity donation process.
Modulux Lighting provides more light with less power through its LED lighting fixtures. 
Venture Vintage II added to the portfolio in May 2015 and are currently preparing pitches for funding:
Honorlock offers award-winning, cloud-based solutions to curb academic dishonesty while remaining non-invasive.
Tone-y-Bands brings to market unique arm toning wrist weights that can be worn throughout the day to provide a workout from regular activities and improve exercise results. 
Candidate.Guru delivers applications designed to vastly improve the hiring process for companies through the application of big data and machine learning technologies.
TightTalk Electronics has created the EarDrive audio recording, transcription and translation solution that works with any audio source.
Applications for a fourth round of Venture Vintage companies will be solicited and evaluated by FAU Tech Runway in January 2016. Startups will be sought in all industries, with an emphasis on technology.  The application process includes a business plan, pitch deck, three letters of recommendation and bio for each founder. Criteria for evaluation include but is not limited to the market opportunity, distinctive competence/competitive advantage, financial understanding of the revenue model and the investment potential. For more information on FAU's Tech Runway, visit techrunway.fau.edu.
-FAU-