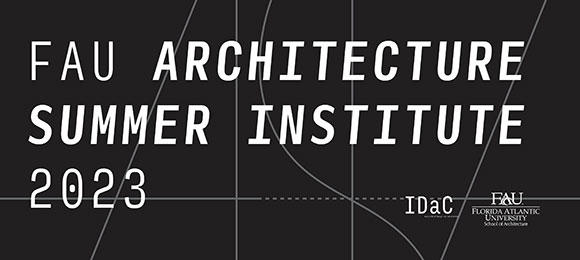 Overview
For Summer 2023 the Architecture Summer Institute will be offering three tracks which build upon each other, on both the FAU Boca Raton and Ft Lauderdale Campuses. The sessions are scheduled for July 10th - August 4th. The program will be open to rising sophomores, juniors or seniors in high school; recent high school graduates; and students in their first two years of college. All students with or without a design background are welcome. This program is not for college credit but students will receive a certificate of completion at the end of the program.
Throughout the program, students will produce a variety of work that can be used as part of a portfolio when applying to colleges. Students will have the opportunity to display and participate in a final critique of their work. Enrollment is on a first-come, first served basis and space is limited.
Daily Schedule
The schedule is 9am to 4:30pm Monday through Friday. Participants will engage in space planning, drawing, and model building. Participants will also have the opportunity to take field trips to visit local architecture firms as well as the downtown Fort Lauderdale campus where the upper division architecture program is located. In the second and third week, the camp will move to the Ft Lauderdale Campus and participants will be engaging with cutting edge digital fabrication technologies which are the future of architectural education and the industry at large. Interaction with faculty members and upper division architecture students help to provide a foundation for a memorable architectural school experience.
Tuition
4 Week Package: $2050.00
3 Week Package: $1500.00
2 Week Package: $1050.00
1 Week Package: $550.00
For early registration, a deposit of 50% of tuition and required application materials must be received by May 1st, 2023. After May 1st, full tuition will be due with the application package. Admission is on a first come first served basis. Submission of all of the items listed below including the tuition will reserve your place in the program. All tuition is due and payable by June 1st, 2023. Failure to make payment by that date could result in a forfeiture of your place in the program to the next person on the waiting list. After the registration deadline of June 1st 2023, applications and payments will only be accepted only if space is available. The total price will include all necessary materials and transportation costs for the field trips. Lunch also is included.
Application Information
The application package should include:
FAU School of Architecture 2023 Summer Program Application
Letter of Intent (100 to 150 words), responding to the following prompts:

What about design interests you? Give examples in your day to day life. Why was architecture an interest to you?

Letter of Recommendation from your high school guidance counselor, teacher, or architecture professional
Unofficial high school or college transcripts
50% of Tuition by May 1st, 2023
Full tuition by June 1st, 2023
Submission Options
Online
Please submit all your documents to the online application form above. YOU WILL RECEIVE AN EMAIL WITH THE ACCESS CODE TO MAKE YOUR PURCHASE AND REGISTER AFTER YOUR DOCUMENTS HAVE BEEN REVIEWED.
For any questions, email idacinfo@fau.edu with the subject line ASI 2023 Application Questions [LAST NAME OF STUDENT].
Online Payment
Payments can be made through our secure server online. You can pay by credit card by selecting the link to the session you are interested in.
If you would like assistance with this process please email us at idacinfo@fau.edu.
Housing
In the past we have offered the option to live on campus, however we won't e able to accommodate or on campus residency this summer. Please visit https://www.fau.edu/visit/local-accommodations for local accommodations near the campus.
For questions or comments please email us at idacinfo@fau.edu.
---
Contact us at idacinfo@fau.edu for information on class and enrollment details.