Student Spends Summer Swimming with Sharks in South Africa
Honors College sophomore William Sample had the incredible opportunity to spend a month in Mossel Bay, South Africa studying great white sharks through the Oceans Research Internship.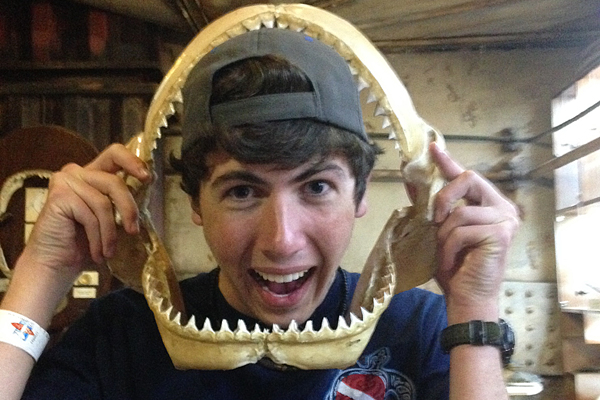 ---
Harriet L. Wilkes Honors College sophomore William Sample recently returned from Mossel Bay, South Africa, where he spent a month participating in the Oceans Research Internship. The internship gives top students a chance to work with leading marine biologists on field research projects, which often focus on South African megafauna such as sharks, whales and dolphins.

Sample, an Honors College Flagler Scholar, is studying marine biology and environmental science. He has always had a particular interest in sharks and large marine mammals.

While abroad, Sample worked more than 150 hours at the Oceans Campus in Mossel Bay under the leadership of Enrico Gennari, Ph.D., one of the most prominent great white shark researchers in the world. Sample also worked with 25 undergraduate students from the United States as well as graduate students from around the world.

Much of the research Sample contributed to, including white shark populations, benthic shark ecology, marine mammal habitat use, dolphin populations and shark tonic immobility, is being used in thesis publications and grant research. Knowing that his efforts are contributing to the overall knowledge of an organism is an unimaginably rewarding experience, he said.When not engaged in research, Sample was able to explore nearby Cape Town, and go scuba diving with seals and various shark species.

According to Sample, the most challenging aspect of his internship experience was getting used to the lifestyle of a researcher. "Waking up at strange hours, working long shifts out on the boats, and doing all sorts of monotonous, but necessary, tasks such as boat cleaning, data input and video analysis were things I was not used to doing," said Sample. He added that the most rewarding aspect of the experience was overcoming these challenges. "There is no feeling quite like waking up at 5 a.m., full of excitement and adrenaline, to go out on a boat and study great white sharks."

Sample's experience at the Oceans Campus and especially his research with great white sharks has reassured his passion and encouraged him to pursue a career in the field. His long-term academic goals are to earn a master's degree – possibly in another country – as well as a doctorate degree, while focusing his studies on great whites. He may even open his own research institution one day.

"The experiences I had while in South Africa will assuredly benefit me during my time here at the Honors College. I not only have a much better grasp on the science and the behavior of many megafauna, but I have also acquired universal skills such as teamwork, leadership and time management," he said.

Sample highly encourages other students to seek internship opportunities abroad. He believes the unique experiences are good resume builders and more importantly, they give students practical field experience, which can help prepare them for a future career.


Special thanks to Harriet L. Wilkes Honors College Student Selene C. Vazquez for her work on this story.


-FAU-