2020 Harriet L. Wilkes Honors College Featured Graduate Features
2020 Harriet L. Wilkes Honors College Featured Graduate Features
---
Wednesday, May 06, 2020

Christy LaFlamme
Bachelor of Science in Biological Chemistry
Christy LaFlamme actively participated in undergraduate research with FAU's partners at Scripps Florida. Most recently, she worked in the neuroscience and behavior laboratory of Dr. Damon Page, investigating genes and molecular mechanisms underlying autism spectrum disorder. In 2019, Christy received the Phi Kappa Phi Scholar award, which recognizes academic excellence in all disciplines. She is the first person in her family to receive a college degree, but she's not stopping there. Next, Christy will pursue a Ph.D. at the St. Jude Children's Research Hospital Graduate School of Biomedical Sciences.
Advisors: Wilkes Honors College: Chitra Chandrasekhar, Ph.D. and Catherine Trivigno, Ph.D.
Scripps Research: Damon Page, Ph.D.
Thesis Title: Investigating the role of mTOR signaling as a point of convergence for autism risk genes
What does FAU mean to you? 
To me, FAU is truly a place where tomorrow begins. I have been enabled to grasp opportunities at FAU that, a few years ago, I would never have imagined nor envisioned for myself. Importantly, the sense of community at FAU has taught me that tomorrow's destination is only as valuable as today's journey and that exactly where you go is not as important as who you go with. We are stronger together.
Describe your experience in the Harriet L. Wilkes Honors College:
My experience at the Harriet L. Wilkes Honors College (WHC) has been nothing short of an adventure. Conducting research at one of the topmost institutes in the world, founding a student research organization at the Jupiter campus, and building everlasting friendships with students, faculty, and staff are a few of the highlights. Over these past few years, I've learned a lot about my field of study through my classes and my research, but even more about myself, my goals, and my purpose. Studying at WHC has been one of the best decisions I have ever made.
Favorite Wilkes Honors College Memory:
One of my favorite memories at the honors college has to be speaking at the FAU Jupiter 20th anniversary groundbreaking ceremony. I had never spoken in front of that large of a crowd before and, as a result of this new experience, I discovered a passion for public speaking.
How will you commemorate graduation?
A WHC 2019 graduate passed her graduation regalia down to me right before quarantine. I am so thankful to have had the opportunity to take my graduation pictures in it. That cap-and-gown is now making its way around the class of 2020. I've also scheduled a Virtual Graduation Get-Together on May 8th for all of the WHC seniors, and I look forward to spending some time with my class before we all part ways.
After graduation plans:    
This summer, I will start graduate school at the St. Jude Children's Research Hospital Graduate School of Biomedical Sciences in the pursuit of a Ph.D. in the Biomedical Sciences.
---
Abigail Chavez
Bachelor of Science, Biological and Physical Sciences and Liberal Arts and Sciences 
Concentration: Cellular Neuroscience and Psychology 
Abigail Chavez was active in campus and community activities while pursuing a double degree and conducting research at the Max Planck Florida Institute for Neuroscience. In McLean Bolton, Ph.D.'s Lab she explored disorders of neural circuit function. She served as marketing director for Student Government; student leader for FAU Thrive, Koo Family Interfaith Community Engagement Intern, orientation and welcome leader,  biology lab teaching assistant; and volunteered at MyClinic as a medical interpreter. After graduation, Abigail will spend a year as a Seton Teaching Fellow in the Bronx, New York, where she will work with underserved intercity children. After that, she plans to attend medical school.
 
Advisors: McLean Bolton, Ph.D,  Erik Duboué, Ph.D., and Laura Vernon, Ph.D.
Thesis Title: Morphological Characterization of a Novel Intercalated Cluster in the Amygdala. Here I sought to expand the knowledge of the amygdala which has pathological implications in mental conditions such as anxiety, fears, and autism. The bulk of research conducted on the amygdala focuses on the excitatory portion of the circuit, leaving a lot of unexplored territory in the inhibitory circuit. Even though there are less inhibitory neurons, their modulatory effects are robust. Some of the inhibitory neurons are clustered into groups, one of these groups is the apical paracapsular interrelated cluster or the apITC. Thanks to Max Planck I was able to research this cluster, which has never been looked at before. Now we have one more piece of information that could help future research and treatments of mental conditions. 
What does FAU mean to you?
Growth and opportunity. Thanks to all of the resources and support that FAU gives to its students, I was able to learn more than I could've ever dreamed to imagine. 
Describe your experience in the Harriet L. Wilkes Honors College:
It was a journey guided by excellence and mentorship. The faculty and staff at the HC inspired me, the way they care for us and wish to help us grow is astounding. Everything I ever needed was at most a ten-minute walk away, whether it was to a professor's office filled with snacks and joyful conversations or groundbreaking research. The close-knit environment helped connect me, in personal ways, to so many people that have changed my life. Some of these people are Dr. Laura Vernon, Dr. Brenda Claiborne, Dr. Erik  Duboué, Dr. Bolton, April Schimmel, Adam Schwarz, Dr. Trivigno, Dr. Earles, and Dr. Steigenga. But I am attempting to name all of them in vain, that list is never-ending. Looking back at my time, I can't express anything but gratitude. 
Favorite Honors College Memory:
Orientation week! Both my own and all the following ones which I helped at. Being able to build a sense of community from the get-go really helps set the tone for the rest of the year. I also really loved going to Jupiter Donuts before the break of dawn to watch the sunrise at the beach. 
How will you commemorate graduation?  
Travel! As soon as it is safe to do so of course. 
 
After graduation plans:
I will work in the Dr. McLean Bolton Lab at Max Planck to continue my research and help pass on some techniques before I move to New York to be a Seton Teaching Fellow.
---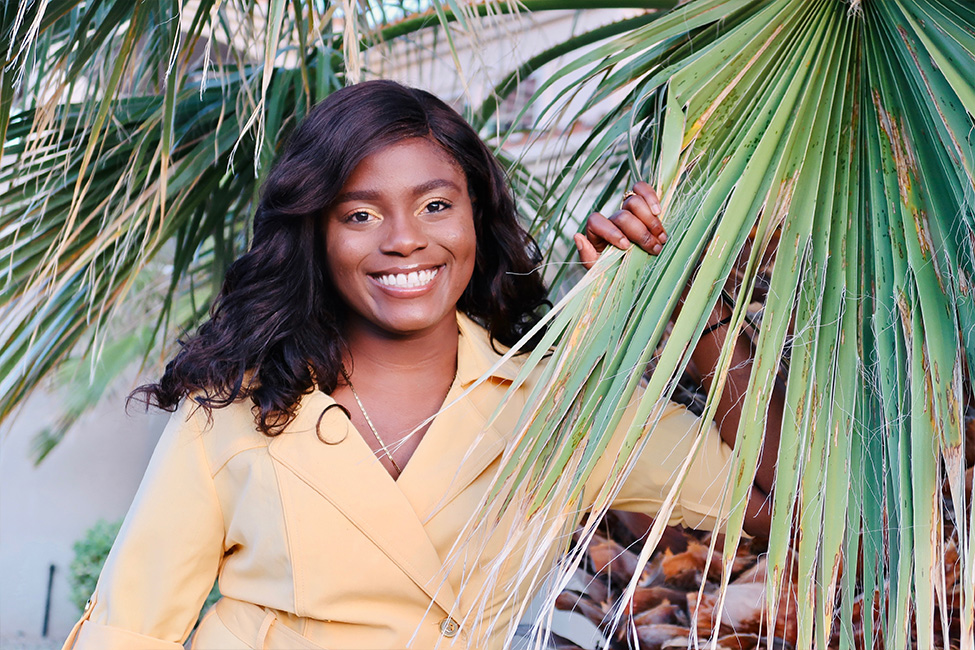 Abigail Nwiloh  
Bachelor of Science, Biological and Physical Sciences              
Advisors: Terje Hoim, Ph.D.,  Catherine Trivigno, Ph.D.
Thesis title: Can a Telehealth Coaching Intervention Improve the Diet and Nutritional Status of Family Caregivers (FCG) of the Older Adult with Dementia (OAD) ?           
My thesis is a peer review that delves into the factors that cause stress/burden of dementia patient caregivers. The paper highlights, specifically, the impact of the burden on the nutrition of caregivers. A suggestion for further research/ studies that could shed more life on this issue is presented and discussed.

What Does FAU Mean To You?
FAU is a place that provided me with a growth opportunity. I have experienced enormous growth and I feel well rounded as a servant leader of my community. FAU is a family built on support and encouragement. I was able to make lifelong friends that I know will always have my back. I was also fortunate to encounter the most amazing professors including my dear advisor, Dr. Trivigno, who taught me in several classes and offered advice for my post-graduation plans. I am honored to forever be a part of a great community. FAU = (Fundamental Autonomy in Unity) GO OWLS!

Favorite Honors College Memory: 
My favorite memory would have to be the 2019 Halloween Ball. That was a really fun night. 
After graduation plans:
I will be attending Meharry Medical School in Nashville, TN to pursue my MD degree. I have truly enjoyed attending the Honors College for the past three years of my life. I am extremely grateful for the opportunity to attend this school. Thank you to all the faculty and staff who have supported me throughout the years. I will incorporate all the values and skills that I have learned to my medical career and throughout my life. This is not a goodbye but a "see you later!"     
---
Anita Nwiloh     
Bachelor of Science, Biological and Physical Sciences
Minor: Economics          
Advisors: Terje Hoim, Ph.D.,  Catherine Trivigno, Ph.D.
Thesis title: Courtship and Mating in Drosophila Flies: The Effects of Social Behavior & Sleep Drive On Mating Drive    
I studied courtship behaviors in several strains of flies including the Dahomey strain, the Canton S. strain, and the Drosophila strain. By scoring the videos of blinded flies mating, I was able to study the patterns of their mating behaviors and decipher the reason why Dahomey male flies attempted to mate with each other.        

What does FAU mean to you? 
To me, FAU means family and growth. FAU has not only been the place I called home for the past 3 years, but it has been the hub of positivity and enlightenment for me. I was able to make lifelong friends that I know have my back even through the hardest paths in life. I learned valuable lessons about myself such as how resilient I was in the most challenging courses and how capable I was of being a leader to my peers in my organization, Black Student Union. FAU will always be my home and all the people I connected with during my time here, will always be my family.
Describe your experience in the Harriet L. Wilkes Honors College:
The Honors College was one of the most uplifting environments that I have ever found myself. I was opportuned to form solid relationships with all my professors and receive the feedback I need to grow as an individual. I challenged myself in the classroom and outside of it. When I wasn't studying for exams, I was engaging in school organizations and finally started my own this year. I loved my time at the honors college and I know I will continue to see our students prosper as they leave. 
Favorite Wilkes Honors College Memory:
I loved the Pre-Med Gala and having the opportunity to raise money with my club members. I also loved being able to perform with my sister at the event last year. I also enjoyed all my BSU members and getting to have fun at all our events.
How will you commemorate graduation?
My parents surprised my sister and I with FAU paraphernalia and bought us a graduation cake that we will be eating after the virtual ceremony. There will of course be lots of picture taking and virtual Zoom parties with my peers.

After graduation plans:
I will be attending Meharry Medical College to obtain my MD. I will be starting the program this summer. I appreciate all the staff members and my professors for making me who I am today and teaching me all that I know now. I look forward to taking these memories and lessons with me as I move forward.           
---
Jeffrey Turn
Bachelor of Science, Biological and Physical Science
 Turn is the third in his family to graduate from the Harriet L. Wilkes Honors College of FAU, following his sisters Christina Turn and Rachel Turn.
Concentration: Biology            
Advisors:  Shree Kundalkar, Ph.D. and April Schimmel
Thesis Advisor:  Catherine Trivigno, Ph.D.
Thesis Title: Testing for Chytrid Fungus Infection in Southeast Florida Crustaceans


What does FAU mean to you?
Florida Atlantic University means opportunity. If a student makes themselves available to it, there are opportunities for any student to succeed in whatever they want to achieve. One opportunity I took advantage of was the design and completion of my own thesis research project using the on-campus Biology Laboratory and field research under the supervision and direction of Dr. Trivigno, Dr. Wetterer, and April Schimmel. Also, with guidance from Professor Lemeh, I was able to create an Environmental Art project to show at our virtual symposium titled Over a Billion, referring to the number of animals killed in the Australian brushfires. I also had the opportunity to be president of Enviro Club, Newman Club, and HC PreVet Club. Before my friend Carmen Garcia graduated from the Honors College, she formed the HC Pre-Veterinary club, which provided me and several other students the opportunity to meet with other like-minded individuals in the veterinary field. This provided me with much assistance in my journey to veterinary school, and I greatly appreciate the help I received from my fellow officers. As president of the Honors College Pre-Vet Club, I helped expand its numbers with a guest speaker event and educational meetings, and I hope it will continue to grow next year under its new president Aaron Caudill. There are plenty of opportunities for the Honors College to grow if students make their voices heard. I hope that I have left the HC a better place, and I am extremely grateful for all of the wonderful opportunities I have been given through this amazing university.
Describe your experience in the Harriet L. Wilkes Honors College:
My experience was seemingly endless study with brief instants of sanity. The truth is that it was hard work, and only through persistence and the support of my loving family and friends was I able to reach this point. But in those brief instants of sanity I could see what made the Honors College special: community, friendship, uniqueness. We weren't numbers here, and we felt it. Professors actually cared about whether we succeeded or failed, for me this was especially apparent through the support of Dr. Trivigno, Dr. Lemeh, Dr. Wetterer, April Schimmel, and Dr. Kundalkar. Friendships here were close, and I lived for those days where I could leave my textbook-filled dorm and spend time with them, which is why staying at home for the end of this semester was so tough. I remember once I had finished a difficult exam and my friend Will Gallese invited me to go the beach with him... I was wearing blue jeans, sneakers, and no sunscreen! Jumping into the blue ocean water was the most fun I had that week. Now that I have graduated, I am jumping into the metaphorical ocean again, but this time, thanks to my Honors College education, I feel more prepared than I was that day, and I am ready to face the incoming waves.
Favorite Honors College Memory:
My favorite memory at Harriet L. Wilkes Honors College was working on my honors thesis to capture crayfish and freshwater shrimp in various bodies of water in Southeast Florida. The most entertaining part was when Aaron Caudill, Hien Do, Linda Do, and myself searched Dupuis Wildlife Management Area because we started scooping and placing traps at 4pm but we ended up leaving at around 2am. While there we saw at least 16 alligators (at night, we flashed our flashlights over the water and you can see the red reflection of their eyes). We also saw snakes, catfish, raccoons, opossums, and even a two-toed amphiuma! Despite all the time spent at the park we only found two shrimp, but the experience in the end was still worth it! 
How will you commemorate graduation? 
I will celebrate at home with my parents, they have kept most of it a surprise!
After graduation plans: 
I will be working this summer at Tampa Veterinary Hospital, and I will be attending veterinary school this August at the University of Georgia College of Veterinary Medicine! I am very excited to be taking this step to further my education and reach my ultimate goal of becoming a veterinarian at a zoo or an aquarium.