FAU College of Engineering and Computer Science Professor Recognized by the Greater Fort Lauderdale Alliance
by Cheryl Halle |
Friday, May 25, 2018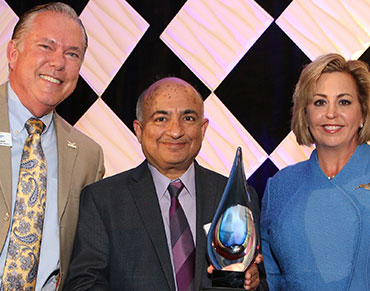 ---
l-r: Bob Swindell, CEO of the Greater Fort Lauderdale Alliance; Manhar R. Dhanak, Ph.D., professor and director of SeaTech in FAU's Department of Ocean and Mechanical Engineering; and Jennifer O'Flannery Anderson, Ph.D., chair of the Greater Fort Lauderdale Alliance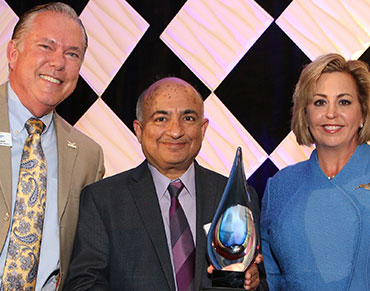 Manhar R. Dhanak, Ph.D., professor and director of SeaTech - The Institute for Ocean & Systems Engineering in Florida Atlantic University's Department of Ocean and Mechanical Engineering was presented with the 2018 World Class Faculty Award by the  Greater Fort Lauderdale Alliance. The award was presented at the Alliance's Mid-Year Luncheon that was held on Thursday, May 17 at the Pier Sixty-Six Hotel and Marina in Fort Lauderdale.
The World Class Faculty Award is presented annually as part of the Alliance's "Educational Excellence Builds Business" campaign. The campaign showcases the high quality of Greater Fort Lauderdale's pre-K–20 education system and the outstanding quality of the local workforce including the "world class" faculty who are nationally or internationally known in their fields. Dhanak was selected for his innovative work in developing ocean technologies, such as unmanned autonomous marine vehicles, and his work with ocean engineering students, both inside and outside of the classroom.
"Professor Dhanak is an incredibly talented researcher, teacher and mentor who has made groundbreaking contributions in the fields of hydrodynamics, autonomous maritime systems, and marine renewable energy," said Stella N. Batalama, Ph.D., dean of FAU's College of Engineering and Computer Science. "He brings great prestige to our University and to the engineering discipline, and is most deserving of this honor."
Dhanak is a graduate of the University of London. Before joining FAU, he served as a Research Fellow at the Imperial College, London; as a Researcher Scientist at Topexpress, Cambridge, UK; and as a Senior Research Associate at the University of Cambridge. 
As a professor at FAU, Dhanak has been involved as a Principal Investigator in several significant federal and state funded research projects in conjunction with the U.S. Navy, the National Science Foundation, the Department of Energy, and the Department of Homeland Security. He also was a Co-PI of over $22 million in sponsored research during his tenure at FAU, including a new award of $1.25 million from the Office of Naval Research in developing multi-domain maritime autonomy.
Automation in marine systems involved in Dhanak's Office of Naval Research work with unmanned surface and underwater vehicles will benefit seaports, shipping, and small marine industries in South Florida. His work in resource assessment of the Gulfstream current energy that identified suitable sites for establishing current turbine systems off South Florida and his work on assessing the impact of EMF emissions from subsea cables on marine life are helping the marine hydrokinetic energy industry in South Florida to develop required technologies for wisely harnessing this renewable ocean energy. In a Department of Homeland Security project, Dhanak and his co-workers recently developed a tool for assessing and planning for resiliency of seaport, including Port Everglades.
Dhanak has authored/co-authored more than 90 peer-reviewed publications including seminar papers on vortex dynamics, and the use of autonomous underwater vehicles as mobile platforms for oceanographic observations. He is an Associate Fellow of AIAA, co-Editor of the Springer Series on Ocean Engineering and Oceanography. Dhanak serves on the Editorial Boards of Advanced Shipping and Ocean Engineering Journal and Nature Science Reports. He has consulted on development of several outfalls off the east coast and water intake systems for power plants in Mexico and the Philippines. He also provided expert witness testimonies for an air crash in the Bahamas and for wave-induced coastal damage in Baja-California.
"We are proud that Professor Dhanak has been recognized in this way," said Javad Hashemi, Ph.D., professor and associate dean for research in FAU's College of Engineering and Computer Science. "He is an exceptionally innovative and influential researcher in ocean technologies, and he is establishing FAU as a center for multi-domain maritime autonomous systems."
The Greater Fort Lauderdale Alliance is Broward County's official public/private partnership for economic development.  Its mission is to lead Broward County in building a stronger and more diverse economy by stimulating the creation of new jobs and capital investment while facilitating the growth and retention of businesses in Broward County.