FAU's Human-Powered Submarine Named 'Fastest' Among Colleges
by Kelsie Weekes |
Thursday, Jul 06, 2017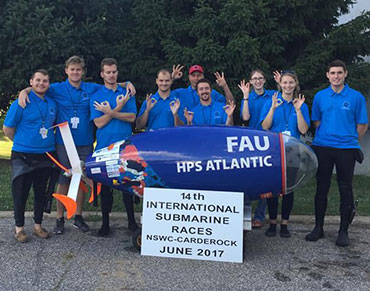 ---
Florida Atlantic University's Human-Powered Submarine (HPS) team placed second overall in the absolute speed category at the 2017 International Submarine Races (ISR) at the Naval Surface Warfare Center Carderock Division in West Bethesda, Maryland.
Twenty-five teams from universities, high schools, research centers, corporations and private sponsors competed in the race. FAU's finish put them ahead of all other collegiate competitors, earning their submarine the title of Fastest Collegiate Human-Powered Submarine.
The team's new submarine, HPS Atlantic, has an innovative vector propulsion system that allows the propeller and fins to swivel back and forth and up and down so the submarine can turn more efficiently.  The HPS Atlantic successfully completed 17 runs, the most of any submarine. Its fastest completed run was 4.90 knots.
"This competition is extremely competitive, and these results are tremendously empowering to FAU's ocean engineering program," said Javad Hashemi, Ph.D., chair of the FAU Department of Ocean and Mechanical Engineering. "I believe we have established a tradition of excellence in all of our club activities and this will go a long way in elevating the department as an engineering powerhouse in the state and the nation."
The ISR is a unique engineering-design competition challenging teams to build a one- or two-person human-powered submarine using concepts such as hydrodynamic design, buoyancy, propulsion guidance systems and underwater life support. Participants use scuba equipment while powering their submarine down an underwater, 3200-foot long course. Teams compete for best overall performance, innovation, speed, design outline and spirit.
"Our team members worked hard all year which allowed us to perform as well as we did," said Michael Denny, FAU HPS team president. "We are grateful to the faculty and staff who helped us prepare for the competition, and to our sponsors who provided us continuous support."
Along with Denny, the eight-person FAU team included Dan Luvisi, Declan Depietro, Mike Perry, Jesse Schreck, Ryan Kwaterski, Megan Matson and Mackenzie Smith. The team also was guided by Fred Knapp, FAU senior lab teaching instructor, and Anthony LaVigne, team adviser and FAU machinist.
"The FAU team proved to be among the most professional I have ever seen," said LaVigne. "Designing, fabricating and testing a human-powered submarine is not an easy task. FAU's performance certainly impressed Carderock engineers and Navy officials, and bolstered our credibility in the ocean engineering community."
The FAU HPS team next will compete in the European International Submarine Races, which will take place July 3 to 12, 2018 in Gosport, England.