FAU Roboboat Team Competes in First International 2014 Maritime RobotX Challenge
Sunday, Oct 26, 2014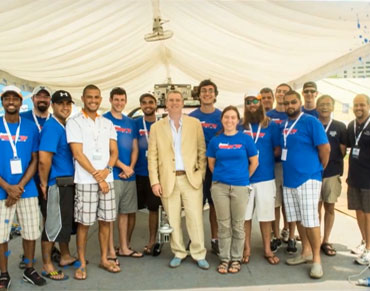 ---
Students from the College of Engineering and Computer Science at Florida Atlantic University, in partnership with students from the College of Engineering at Villanova University, won first place in the land-based judging, best website, best design presentation and a special award for learning the difference between theory and practice at the first International Maritime RobotX Challenge in Marina Bay, Republic of Singapore. The team secured a total of $7,500 in prize money.
The FAU-Villanova team named the Wildcat, Owls, RobotX (WORX) entered a customized 16-foot Wave Adaptive Modular-Vessel (WAM-V) Unmanned Surface Vehicle (USV). The team outfitted the USV with a custom designed propulsion system, navigation sensors, control system and software that enabled the team to navigate a complex obstacle course autonomously with no remote control or human input. Due to hardware and overheating problems the team was not able to qualify for the finals.
"The privilege of working  on the RobotX project is something that I will never forget," said Travis Moscicki, FAU RobotX team member. "The opportunity to collaborate and learn with such a talented team from universities a thousand miles apart on such a specialized project has left me with incredible memories, created both in the United States and Singapore.  Furthermore, working with a team that performs at such a high standard has motivated me to work that much harder on the next project."
The 23-person team included interdisciplinary students in the FAU College of Engineering and Computer Science Bianca Mesa, Jorge Martinez, Andrew Long, Travis Moscicki, Mario Miranda, Ivan Bertaska, Huajin Ariel Qu, Michael Kaiser Cross, Jean Lapaix, Edoardo Sarda, Owen Pakledinaz, David Pearson, and Keith Hazlett; Villanova students Priya Shah, Nick Dileo, Mike Benson, J. Wes Anderson, Gus Jenkins, Gin Cheng, Ed Zhu, Dylan DeGaetano, Chida Matada and Anderson Lebbad. Team faculty advisors included Karl von Ellenrieder, Ph.D., professor of ocean engineering at FAU, C. Nataraj, Ph.D., professor and chair of the department of mechanical engineering at Villanova University and Garrett Clayton, Ph.D., associate professor of mechanical engineering at Villanova University. Technical assistance was provided to the team by Pierre-Philippe Beaujean, Ph.D., associate professor of ocean engineering at FAU, FAU Senior Engineers, Ed Henderson and John Kielbasa and FAU machinist Tony Levigne.
Each team in the competition received a WAM-V and a grant for $25,000. The competition focused on sensors, software and propulsion. Student vehicles were launched from a floating platform and were required to complete five mission tasks, in order, autonomously without the use of remote controls. The tasks involved navigation and control, obstacle detection and obstacle avoidance, symbol recognition and vehicle docking, underwater search and reporting and observation.
The event was sponsored by the U.S. Office of Naval Research, and the AUVSI Foundation, with local organization by the National University of Singapore to create a science, technology, engineering and mathematics (STEM) student outreach and promote interest in Pacific national partners in science and technology of autonomous systems.
Approximately 15 teams competed from five Pacific Rim countries – U.S., Singapore, Australia, South Korea and Japan. The FAU-Villanova team was selected by the Association for Unmanned Vehicles Systems International (AUVSI) Foundation as only one of three teams to represent the U.S. based on their proposal, which presented a new approach to autonomy, systems integration, marshaling resources and technical support. The other two teams representing the U.S. were MIT-Olin College and the Embry-Riddle Aeronautical University.