FAU Honors 2017 Distinguished Alumni
Thursday, May 04, 2017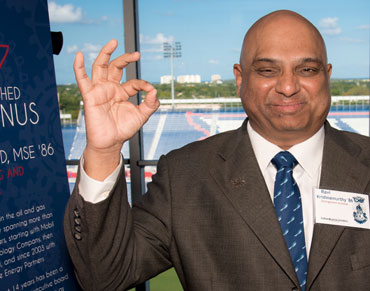 ---
The Florida Atlantic University Alumni Association (FAUAA) hosted its Hall of Fame and Distinguished Alumni ceremony in May. The event brought together alumni to celebrate the accomplishments of their most outstanding peers. Alumni from eight of FAU's colleges were honored for their career accomplishments.
"It's my distinct pleasure to honor these outstanding individuals for all that they've accomplished since graduating from FAU," said FAU President John Kelly.
The distinguished alum for the FAU College of Engineering and Computer Science for 2017 was Ravi M. Krishamurthy, Ph.D., M.S.E. '86. For the last 14 years, Krishamurthy has been a principal and executive board member at Blade Energy Partners, serving as president from 2005 to 2008. Krishnamurthy currently integrates upstream technical knowledge with business leadership acumen to deliver financial and strategic value to Blade Energy Partners and its shareholders. The company tackles upstream and pipeline technical challenges by integrating skills in mechanics, metallurgy, chemistry, electrochemistry and fracture mechanics, with core knowledge in drilling, completions and infrastructure.
"FAU provided me the opportunity to get a world-class education in the College of Engineering and Computer Science's Department of Ocean and Mechanical Engineering, " said Krishnamurthy. "Professor Hartt, my master's advisor, was responsible for me pursuing a doctoral degree. Consequentially, he and FAU are responsible for all of my career success."
Krishnamurthy's career in the oil and gas industry spans more then 25 years, starting with Mobil Technology Company, then GE PII, and since 2003 with Blade Energy Partners.