Dimitris A. Pados Appointed Eminent Scholar
Tuesday, Jul 17, 2018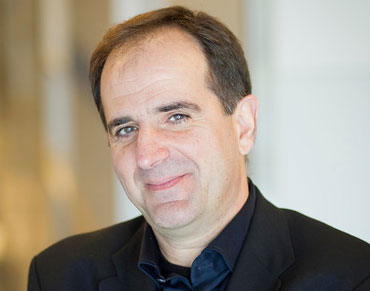 ---
The FAU College of Engineering and Computer Science is pleased to announce that Gary Perry, Ph.D., former FAU provost with the concurrence of President Kelly and Dan Flynn, Ph.D., vice president for research at FAU has appointed Dimitris A. Pados, Ph.D., professor and I-SENSE Fellow as the Charles E. Schmidt Eminent Scholar in Engineering.
Pados is an internationally renowned scholar and expert in communications and networking, and will use his position to create and operate a new Center for Connected Assured Autonomy within the College of Engineering and Computer Science and the Institute for Sensing and Embedded Network Systems Engineering (I-SENSE).
Pados joined FAU in Fall 2017 from the University at Buffalo, The State University of New York (SUNY) where he held the Clifford C. Furnas Chair position in Engineering and Applied Sciences from 2014 – 2017, and was appointed Chair of the Department of Electrical Engineering, June 2017.  He has directed federally sponsored research projects in excess of $11M.  Articles that he co-authored with his students in the fields of communications, signal processing, neural networks, machine learning and data analytics were recognized with major journal and conference best paper awards (2001-2016). Dr. Pados was the recipient of the 2009 SUNY-wide Chancellor's Award for Excellence in Teaching and the 2011 University at Buffalo Exceptional Scholar - Sustained Achievement Award.
The Center for Connected Assured Autonomy will be a first of its kind and will provide national and international leadership in research and development in the growing field of interconnected  autonomous systems.
Pados earned a Ph.D. in electrical engineering from the University of Virginia with a concentration in communications and minors in data networks and mathematics; and a diploma in computer engineering and science (five-year program), University of Patras, Greece.