Winners of 'IoT Hardware Hackathon' Announced
by Kelsie Weekes |
Monday, Feb 26, 2018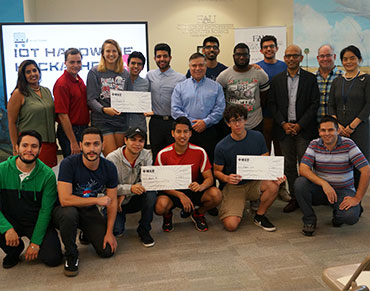 ---
Three teams of students from FAU's College of Engineering and Computer Science recently took home a cash prize for winning FAU's IoT Hardware Hackathon, Make FAU 2018, an annual event held during National Engineers Week. The Hackathon challenges teams to use their engineering skills to build and develop hardware applications.
This year's competition, sponsored by IBM, Stryker and the Institute of Electrical and Electronics Engineers (IEEE) Palm Beach chapter, required teams to build an IBM TJBot that solves a real-world problem using sensors and IBM Bluemix services. Sixteen teams received free hardware and software extensions to begin building their TJBot, and were given until noon the following day to complete the project. Participating hackers had access to electronic labs, test equipment, 3D printers, PCB plotters, and prototyping boards. Students also received training from IBM engineers on how to build the TJBot, which many felt was the most valuable tool of all.
"It's great to have real professionals helping you and serving as mentors," said Cameron Hernandez, a senior studying electrical engineering. "It's fun to get thrown into the deep end and learn how to swim, but they never let you fail."
Hernandez's team built a TJBot called "Dr. Roboto," a medical bot that can detect if an individual is displaying discomfort and communicate with them about their symptoms using IBM Bluemix, visual recognition services, speech and text. Other projects included a wearable bot that can capture the names and faces of people you meet and a bot that can detect an intruder in your home and send a picture to you.
"This competition gives students a way to measure where they are at and prepare them for real-world scenarios," said David Jaramillo, Ph.D., manager and chief architect of IBM CIO Cloud Engineering and Services and FAU alumnus. "I always tell them to be persistent and build a team environment where they can learn to depend on each other."
The three winning teams, Team 2, Team 5 and Team 13, each took home a $100 prize. Team 2 included M. Kaan Tasbas, Adam Prey, Kavita Bran and C. Leo Herrera, while Team 5 included Juan Andoinaire-Villalobos, Greco Pinto Anguita, Luis Loreto and Santiago Alzalte Hurtado. Team 13 included Pablo Adell, David Izquierdo, Benjamin Dorcelus, Justin Dunn.
"The Hackathon teaches these students to keep at it when they have hurdles," said Ray Garcia, Ph.D., P.E., electrical and embedded systems manager at Stryker and FAU alumnus. "Just like in life, whatever you have, you have to work through it."