FAU College of Engineering and Computer Science Outstanding Educators Recognized by The Engineers' Council
Thursday, Feb 22, 2018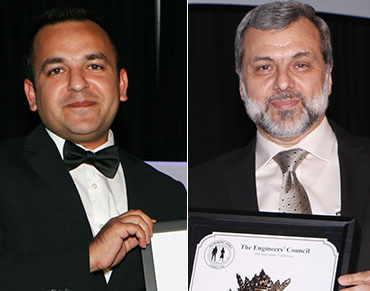 ---
Florida Atlantic University's Department of Electrical Engineering & Computer Science faculty members were recognized at the 7th Annual National Engineers Week Honors and Awards Banquet. Bassem Alhalabi, Ph.D., associate professor, was presented with the Distinguished Engineering Educator Award, and Waseem Asghar, Ph.D., assistant professor, was presented with the Outstanding STEM Educator Award at the event held on February 22 at the Palm Beach County Convention Center. The event was hosted by The Engineers' Council in partnership with the Business Development Board (BDB) of Palm Beach County.
The Distinguished Engineering Educator Award recognizes individuals who are outstanding in professional qualities and have a top reputation for engineering education, mentorship and leadership. Prof. Alhalabi was selected for creating a hands-on culture for students in the embedded systems and logic design labs at FAU.
The Outstanding STEM Educator Award was presented to Prof. Asghar in recognition of his work with "Paper-based Biosensors for Rapid Disease Detection."
The Engineers' Council is a not-for-profit professional society that was founded in 1955 to advance education in engineering and the sciences, encourage engineering career selection and to recognize engineers for their accomplishments. The annual banquet was attended by representatives from engineering, manufacturing, education and technical society organizations. Proceeds from the banquet are used to fund scholarships, high school mentoring and middle-school math and science educational enrichment programs the council engages in throughout the year.
The BDB of Palm Beach County is the official public/private economic development organization for Palm Beach County and Enterprise Florida. Founded in 1982 as a not-for-profit corporation, their primary purpose is to attract and retain new industry, business investment, high quality jobs, and workforce development through corporate relocations, expansions, and international trade. During the past five years, the BDB has assisted in creating more than $595 million in capital investment to Palm Beach County and an economic impact that exceeds $4.1 billion.