FAU Professor Receives Prestigious International 'Humanity in Science Award'
Thursday, Jun 02, 2016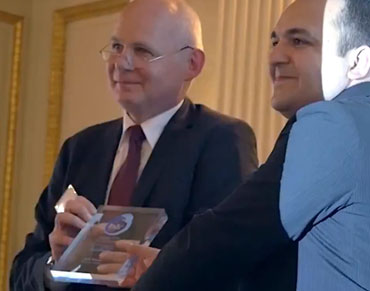 ---
Waseem Asghar, Ph.D., an assistant professor in the Department of Computer Engineering and Electrical Engineering and Computer Science, and the Department of Biological Sciences at Florida Atlantic University, recently received the prestigious "2016 Humanity in Science Award," established by Phenomenex and The Analytical Scientist. The award recognizes and rewards researchers around the world for analytical science breakthroughs that have substantially benefitted human lives in some form. Analytical science involves the separation, identification and quantification of natural and artificial materials, and is used in many fields including drug development, national security, forensics, food and agriculture, proteomics, among others.
Asghar, 31, was presented with the award at the Analytica 2016 conference in Munich, Germany. He received the award for his work on developing a new paper and flexible material-based diagnostic biosensing platform that could be used to remotely detect and determine treatment options for HIV, E. coli, Staphylococcus aureas and other pathogens. Because these microchips are easy to make, easy to use, and can easily and safely be disposed by burning, they provide appealing strategies for developing affordable tools that have broad applications such as drug development, food safety, environmental monitoring, veterinary medicine and diagnosing infectious diseases in developing countries. These paper microchip technologies can potentially have a significant impact on infectious diseases management in low- and middle-income countries and could potentially be adapted and tailored to detect other pathogens and biotargets with well-known biomarkers.
"I am truly humbled and honored to receive this award and recognition from Phenomenex and The Analytical Scientist," said Asghar. "I am grateful for the acknowledgement I have received from the esteemed panel of judges who represent Phenomenex, the editor of The Analytical Scientist, AbbVie, the University of Amsterdam, GlaxoSmithKline, the University of Tasmania, and the University of Florida."
The main goal of Asghar's research is to use nano/micro scale technologies to solve real world problems in medicine with applications in diseases diagnostics, infectious diseases, in vitro fertilization and tissue engineering. His research focuses on a broad area of biotechnology including development of flexible microfluidic platforms for HIV patients, early detection of cancer at the molecular and cellular scale, microfluidic devices for sperm sorting, cryobiology, and drug delivery. He has published his work in many prestigious peer-reviewed journals including NanoToday, Advanced Healthcare Materials, and Lab on a Chip. His research work was featured as journal cover images several times including Lab on a Chip and IEEE TNANO.
"Dr. Asghar's contributions in the field of analytical science are significant," said Mohammad Ilyas, Ph.D., dean of FAU's College of Engineering and Computer Science. "He was selected to receive this award among distinguished scientists around the world, and this is a very proud moment for our College, the University and our community."
Asghar received a prize of $25,000, an all-expenses paid trip to Analytica 2016 in Munich, and his work will be featured in an upcoming issue of The Analytical Scientist.