2014 Distinguished Teacher of the Year
Friday, May 02, 2014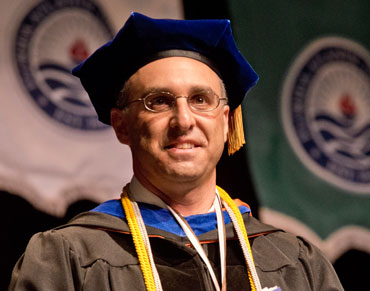 ---
The keynote speaker for the 2014 New Student Convocation was Distinguished Teacher of the Year, Daniel Meeroff, Ph.D., Associate Chair and Associate Professor in the College of Engineering and Computer Science's Department of Civil, Environmental and Geomatics Engineering. The Distinguished Teacher of the Year (DToY) is Florida Atlantic University's highest recognition of teaching University-wide. The DToY is nominated and selected by students and is presented on the basis of scholarship, research and publications, classroom teaching, experience, academic counseling, concern and involvement in students' activities, and University and community services.
Dr. Meeroff is the founder and Director of the Laboratory for Engineered Environmental Solutions (Lab.EES). He has a strong background in analytical instrumentation, water quality, environmental microbiology and synthetic organic chemistry. Since joining FAU, Dr. Meeroff has conducted research in water/wastewater technology development, environmental field monitoring, aquatic toxicity, water conservation and environmental process modeling.
Over the past several years Dr. Meeroff has worked closely with local area consulting firms to assist in the design of experiments and data evaluation for small-scale applications testing, and has provided his scientific expertise in dealing with environmental and public health issues. The Lab.EES staff under the direction of Dr. Meeroff are key components in this type of work as they are able to utilize the lab equipment to construct custom-designed experimental apparatuses to meet the specific needs of a variety of projects.
Dr. Meeroff's research interests include developing innovative treatment technologies that mimic natural systems, specifically by applying physical/chemical and microbiological processes in novel approaches. His specialties involve the application of advanced principles of chemistry and microbiology for the solution and prevention of environmental problems.
Dr. Meeroff is an NCAA national champion soccer player (Florida Tech '91) and coaches soccer for inner city youths in his spare time. He is currently a player and a coach and the director for player development for the Lauderdale Soccer Club. He also teaches the USASA National Amateur Soccer Coaching license course.
Additional speakers at the New Student Convocation included:
FAU President, Dr. John Kelly
Interim Provost and Chief Academic Officer, Dr. Gary Perry
Dean of Undergraduate Studies, Dr. Edward Pratt
Miss Océane Boulais, FAU Student, Electrical Engineering major