About the Series
"One of the most sincere forms of respect is actually listening to what another has to say."
In an age when nearly everything feels politically charged and polarized, it is essential that we come together to dissolve the us vs. them construct and reaffirm our shared humanity through the fundamentals of civil discourse. The BREEZEWAY DIALOGUES series was established in the Summer of 2021 with this exact goal in mind: to provide FAU students the opportunity to discuss relevant and controversial topics while learning civil discourse best practices.
Spearheaded by Dr. Naelys Luna, founding dean of the College of Social Work & Criminal Justice, and Dr. Michael Horswell, dean of the Dorothy F. Schmidt College of Arts & Letters, the BREEZEWAY DIALOGUES series invites students to think critically; observe and participate in debates using facts and evidence-based arguments; and learn how to present ideas in a clear, respectful and professional manner.
To ensure all dialogues remain relevant and meaningful, student voices must be the guiding force behind this series. That's why Step One for the committee was to identify the controversial topics FAU students most want to discuss. More than 400 students completed a University-wide survey to identify the most pressing topics and determine the right time and frequency to hold these important discussions.
Series Location & Format
---
Multiple BREEZEWAY DIALOGUES are held each semester on the Boca Raton campus. Unless otherwise indicated, all dialogues take place in the open-air shade of the Social Science Building (SO-44) rotunda.
Each dialogue features a moderator and multiple panelists who present opposing sides of a selected topic. Following the panelist presentations, discussion is opened to the audience members, who may pose questions for the panelists, offer additional commentary to either viewpoint or share an additional position on the topic.
Attendees are encouraged to bring lunch, grab a seat and get comfortable. While the series is geared for FAU students, faculty and staff are also welcome.
---
Getting Involved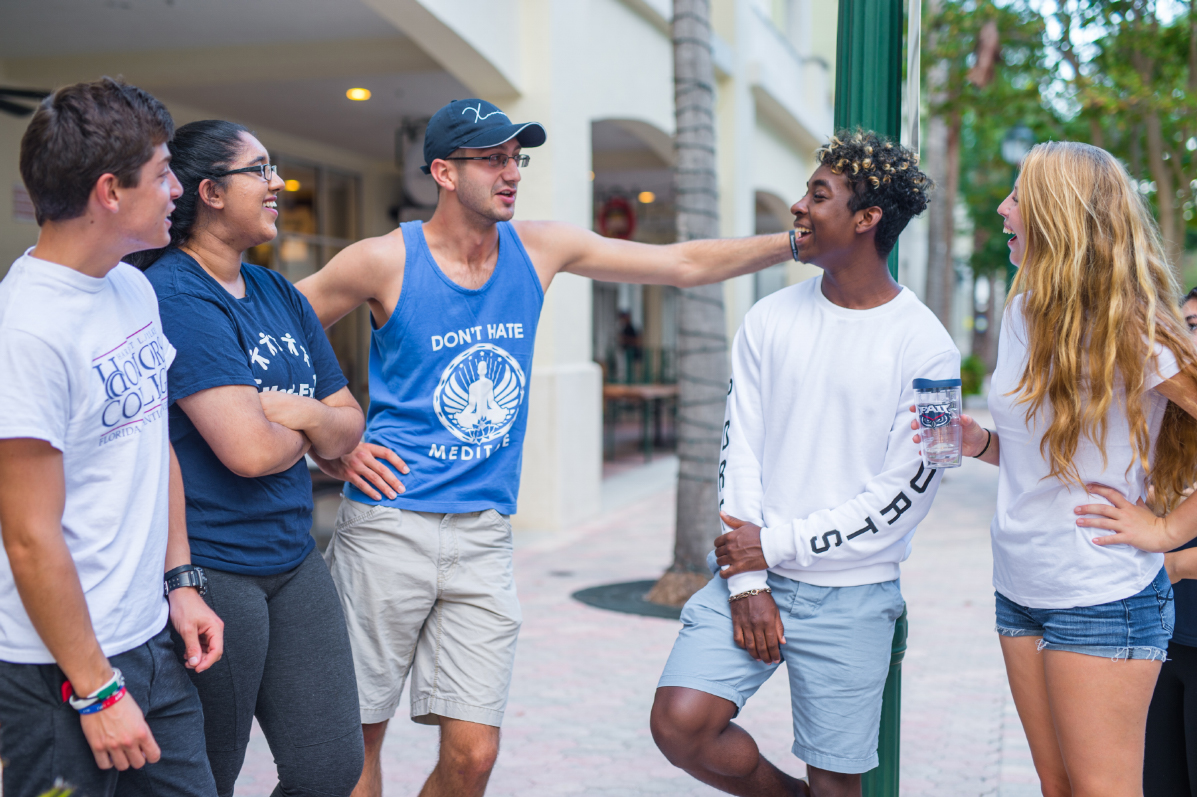 Follow these steps to get the most benefit out of your involvement in the BREEZEWAY DIALOGUES series.
Save the Dates: View upcoming dialogues on our event calendar. Be sure to tap or click the blue "I'm Interested" button so we can get a head count of how many to expect.
Prepare in Advance: Whether you plan to silently observe or share your voice, you will definitely want to get familiar in advance with the series guidelines, tip sheet and "how to benefit" recommendations.
Look for opportunities to participate: You can help make the BREEZEWAY DIALOGUES series a success by attending and participating in the dialogues – whether as an audience member or a panelist. These public-speaking opportunities will reinforce your communication skills, which are essential for success in the workforce and any leadership role. Contact us to share feedback or to express interest in serving as a future panelist.