Turbo-Charge Any Team™
An Assessment to Improve Profits, Communication, and Effectiveness
Are you a small business owner looking to:
Reduce staff turnover, conflict, and stress among team members?
Improve your profits, communication, and efficiency?
Better understand the strengths and weaknesses of your team?
Hire the right team members?
Better engage employees by understanding what motivates and drives them?
Disengaged Employees Affect Your Bottom Line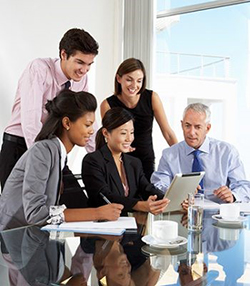 According to Gallup, only 33 percent of employees are actively engaged at work. Disengaged employees are estimated to cost the U.S. between $450 billion – $550 billion, while companies with highly engaged workforces outperform their peers by 147 percent in earnings per share.
Challenges among teams can occur when people's talents and skills are not leveraged for the right positions. When this happens, conflict can occur, communication stops, and ROI is compromised.
How We Can Help
Florida SBDC certified professional consultants will equip you with the knowledge and resources to improve employee engagement, profits, communication, and effectiveness by understanding what motivates and drives your team.
How It Works
CEO/business owner receives a complimentary consultation from a Florida SBDC consultant
Your team conducts the Turbo-Charge Any Team™ assessment (20-30 minutes per person to complete)
Florida SBDC consultant conducts confidential debrief meetings to review reports with CEO/business owner and key team members (1 hour per person)
Consultant conducts debrief with your entire team (3 hours)
Consultant works with your leadership team to develop action steps and follow-up
Cost
$50 per person to conduct the Turbo-Charge Any Team™ assessment