Designing for a New World
The Florida Small Business Development Center at FAU Assists Fashion Designing Company And New Designer Face Masks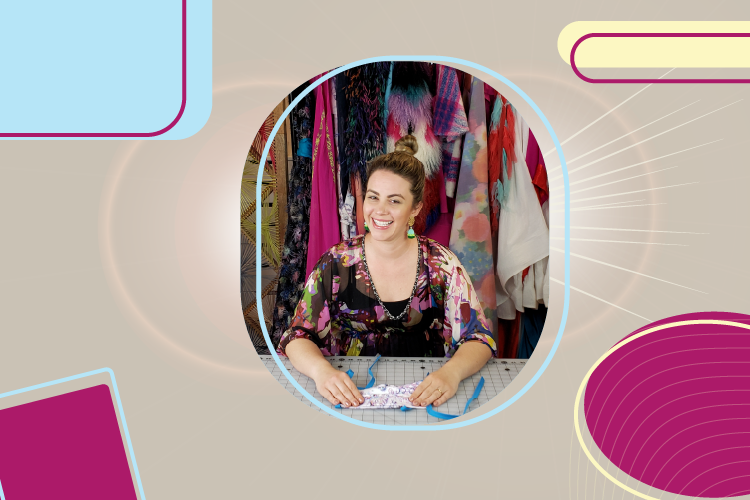 By David Lewellen
When the coronavirus crisis hit in March, business-owner Amanda Perna was grateful that she had an expert to turn to.
Perna, owner of the Neon Bohemians and House of Perna fashion brands in Delray Beach, was hit hard by the stay-at-home orders that closed stores and cratered demands for splashy clothing. But she knew she could get help from Jacqueline Ramirez, a consultant at Florida Small Business Development Center (SBDC) at Florida Atlantic University (FAU).
The two worked together two years ago when Ramirez, who specializes in strategic planning, business development and sales growth, gave Perna business advice on how to get out of a bad rental space. So, when the pandemic put a stop on normal operations, Perna turned to Ramirez again to assist with applying for disaster recovery grants and loans to stay afloat.
"It was a little overwhelming to try to figure out who was eligible for what," said Perna, who has been a business owner since 2016 and sells her designs in more than 60 stores internationally. Thanks to Ramirez, Perna said, she received funding from the Palm Beach County Cares grant and the federal economic injury disaster loan.
With those funds, Perna has been able to maintain jobs for most of her employees by adding a new collection of designer face masks at House of Perna. Each designer mask also matches the dresses and handbags in her current collection. In addition, she creates masks to donate to hospitals and nonprofits in her community.
"It doesn't bring in nearly as much revenue as ball gowns, but it's what saved the business during this craziness," Perna said. "We're staying as close to our brand aesthetic as we can, and we hope we can convert some people to lifetime customers and not just pandemic mask customers."
Looking ahead, Perna knows her business will fully bounce back after the pandemic, "it's just a matter of how and when," Perna said. "When people re-emerge, they're going to be sick of sweatpants. They're going to want to put a dress on."
And for any future crisis, Perna said she knows the Florida SBDC at FAU is there. "It's a great resource for all of us," she said. "Like an old friend you can call when you need to, but hopefully you don't need to all the time."