Bottles in the USA
U.S. Pack Group Expands with the Help from the Florida SBDC at FAU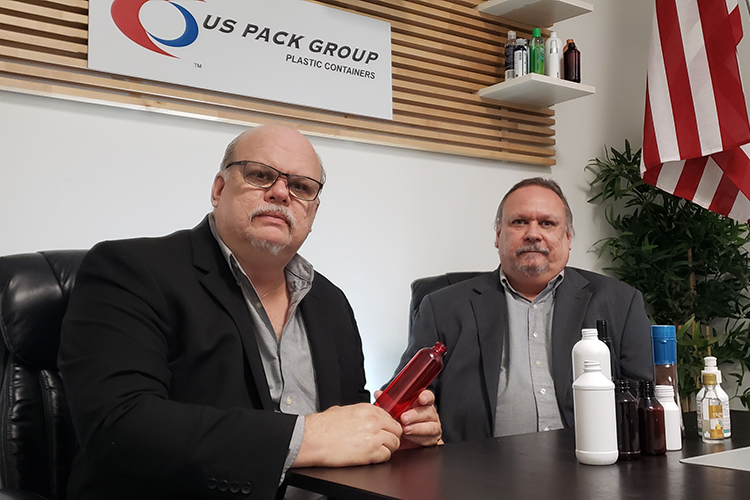 By Shavantay Minnis
Liquid comes in many different bottles, shapes and sizes. And while we purchase for the liquid inside the bottle, have you thought about the shape, size, color, etc., of the actual bottle itself?
For Marco Flores, those bottles are his business. Flores is the operations director and co-owner of U.S. Pack Group, the mastermind behind the plastic bottles. And to grow his business internationally, in 2015 he connected with the Florida Small Business Development Center (SBDC) at Florida Atlantic University (FAU).
When Flores started his business nearly 10 years ago, he had in mind to create a simple and easy process for his customers. He would design and ship their custom made bottles directly and at affordable prices. Often other manufacturers tend to have traditional bottles pre-made with limited and very expensive options to be customized, he said.
Flores also said he wanted his company to be unlike a number of large businesses that live overseas and may require you to have your design ready before it can be processed. This is an added upcharge for custom bottles that many small businesses may not be able to afford.
U.S. Pack Group takes their knowledge on plastic bottle manufacturing and combines the process all from their location in Sunrise, Fla. They create custom and polyethylene terephthalate stock bottles in different shapes and colors for products like household items, automotive care, pharmaceuticals and personal care items. Their bottles range in size from as small as one once up to 36 fluid ounces. Their bottles can be found in products distributed by Publix, Walmart and Home Depot.
"We sell more than just bottles; we sell the service. Our business is open to not just large corporations but to the small businesses like local beauty stores, auto repair shops and convenience stores who cannot afford to work with a large manufacturer," Flores said.
Flores' goal was to continue to reach those small businesses in need of his services. One way to do that was to expand internationally. That way those small mom and pop shops in different countries can also receive quality custom bottles when they may not have the option to purchase them otherwise, he said.
At SBDC, he connected with Parbatee Chang, a consultant who works in export marketing and international trade, for assistance with his exporting ideas.
"Since the last five years we have expanded to different countries around the world, because of Parbatee's assistance. As a small American company, it's not as easy to expand to markets and find different customers globally, but it is why I am grateful for the Florida SBDC at FAU for providing this assistance. Our business would not be the same without it," Flores said.
U.S. Pack Group has made its way to South America, the Caribbean and Canada. Due to Flores' expansion he continues to see his business grow, distributing millions of bottles daily. Flores also said as long as he has his lead consultant Parbatee from the Florida SBDC at FAU by his side, his plans to open another distribution location gets closer and closer.