Business Spotlight: Best of Ventures Inc.
Best of Local Mobile App Booms With Guidance From the Florida SBDC at FAU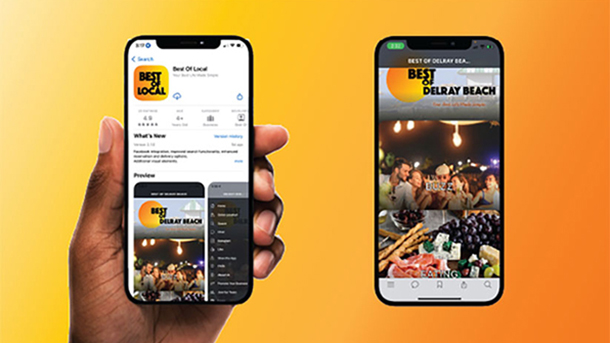 By Shavantay Minnis
Stephen Dickstein, founder of Best of Ventures Inc. is building community, one app at a time. As a longtime entrepreneur who spent years as a film executive, and most recently started a real estate practice, Dickstein created The Best of Delray Beach, a mobile application designed to help locals and visitors navigate popular places and businesses around their town.
"In its simplest form, it is a hyperlocal, easy-to-navigate, curated restaurant guide and local services directory," he said. "Our mission is to make life in our community more convenient."
Through assistance and guidance from the Florida Small Business Development Center (SBDC) at Florida Atlantic University (FAU), Dickstein gained access to market research and strategic planning that allowed him to grow the app to 6K users, with a thousand new members joining monthly as well as growth in the company's Facebook group with 16K followers and millions of local user views.
When he first began brainstorming the idea for the business, Dickstein said one of his first contacts was to reach out to Jackie Ramirez, a business consultant at the Florida SBDC at FAU, specializing in assisting clients with strategic planning, business development and communications.
"Jackie has been a spiritual leader, her observations of what we were doing were very important to me. She's always been encouraging about all of it and just the prospect of where we were headed, even in the early days, she saw the potential. You know, being an entrepreneur is a very lonely thing, but she became someone that was legitimately a businessperson that understood the vision and always pushed me along the way to keep going and reassured me that I was in the right direction," he said.
Before the Best of Local was created, Dickstein also said he recognized there was a lack in people finding reliable local information. Many people in his community, including visitors, new homeowners and even locals, Dickstein explained, constantly asked for personal advice about the all the different places and services in Delray Beach, Fla.
"In servicing my real estate clients, and hearing the same questions about what to do, where to go, and who could help, all the time, I thought it would be best to figure out a way to have the answers immediately ready and available, and that's how the Best of Delray Beach began," he adds.
Now that it's been three years since conceiving the idea of a hyperlocal app, Dickstein said, he has grown a significant social media presence including, "the fastest growing and highly engaged Facebook group, Best of Delray Beach Community Chat," that allows locals to build community, write reviews, share experiences, photos and more.
Once users sign up for the app, they can find great restaurants, attractions, and services, make reservations, get discounts, enter contests and access exclusive events. Companies on the app can also connect with Dickstein and his team to take advantage of advertising opportunities.
And with the Delray Beach app growing, Dickstein has plans to build the Best Of in other cities such as Fort Lauderdale, Boca, Naples, Palm Beach and beyond.
"Now that we have a working model, having secured the trademark for 'Best of Local', once own by Time/Warner and a having established a fast-growing social media platform presence, we're readying the concept to bring into other markets," he said.
"I've been lucky to have attracted a great group of people around me, and they're all excited about the work we're doing. And while I've been successful in my previous career in film production, this is a new field, so with the kind of team that I have put together along with the support from Jackie and the Florida SBDC at FAU, there is no level of success that we can't realize together."