Business Spotlight: Art in a Cart
LeLe Art Lab Expands With Guidance From the Florida SBDC at FAU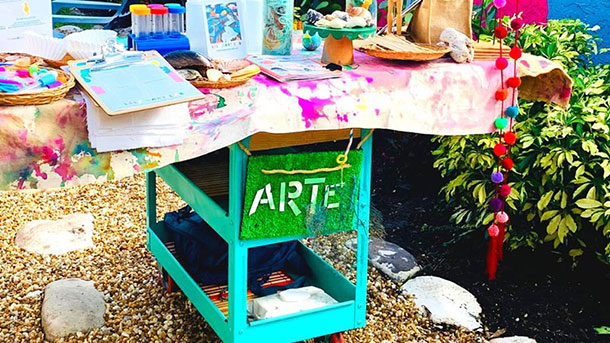 By Shavantay Minnis
Using raw materials from the world around her, Alexa Simeone, owner of LeLe Art Lab, is inspiring students to create art and become passionate about marine science and the environment.
Simeone, who's a National Geographic-certified educator and creative strategist, opened the pop-up lab in 2021 after she had a difficult time finding an interactive art education program for her child.
Through assistance and guidance from the Florida Small Business Development Center (SBDC) at Florida Atlantic University (FAU), Simeone expanded her business, from having a mobile pop-up art cart filled with art supplies to adding educational art programs inside schools and throughout various nature and cultural centers in the community.
Simeone further developed a workbook dedicated to leveraging the power of art to unify and inspire young learners to care for the planet, she said.
"I'm excited about what I do because I'm able to reach different learning spaces and kind of disrupt the model of Science, Technology, Engineering, and Math (STEM) education and art and merge them together so that students can understand and be a part of ocean conservation, ocean science, fieldwork and exploration," Simeone said. "Our process is environmental. We live out the message of reduce, reuse, and recycle. The kids learn to use and transform marine debris, which is a lot of microplastics and then turn that into art."
To make this happen, Simeone worked with Sara Alshareef, Ph.D., a business consultant at the Florida SBDC at FAU, specializing in business growth, development, plans, and navigating opportunities for new markets.
Together the two were able to develop strategic plans that allowed Simeone to capture responses from parents and children so she could expand her methods and services. She was also able to define her business purpose and services, which helped secure grants from Camelback Ventures, Vela Education Fund, Chasing Corals Community and Tiny Fellows.
"Sara was such an integral part of everything; she was at the foundation of it. Her insight was so valuable. Sara saw me at the very beginning when I was transforming cinder blocks into kids-size tables. She's always been very supportive. Every phone call has always been very strategic so that I come out feeling like the clouds have parted, and I better understand what my next steps should be, and how to get there," Simeone said.
Since LeLe Art Labs' inception, they've helped more than 200 children and young students explore their creativity and learn about how to be resourceful.
"I'm not the artist. The students are," Simeone said. "I simply enjoy opening each student's eyes to what's around them and showing them how everyday materials can transform into art. It is not about the finished product but about the process of creating something meaningful. And at the end, they realize that they too are environmentalists and that it can start as early as when they're at home."
Through LeLe Art Lab, Simeone also created See the Reef, an art program for underserved youths, that empowers teens to study all about the ocean through field trips to specific coral reefs in South Florida and later students can create an art portfolio that will be showcased in museums.
While Simeone is inside schools and community centers, she also continues to have pop-up art sessions on beaches and in parks for parents to bring their children.
"I love it when parents show up with an older sibling and a younger sibling because the program is accessible and available to everybody in the family," she said. "And I can't thank the Florida SBDC at FAU and Sara enough for how far I've come. As a small business in the beginning, you feel a bit isolated, and it's so nice to have a place to go where you can get some support and know you're not alone in the journey."