A Plateful of Growth
Sensory Delight Catering Seeks Assistance from the Florida SBDC at FAU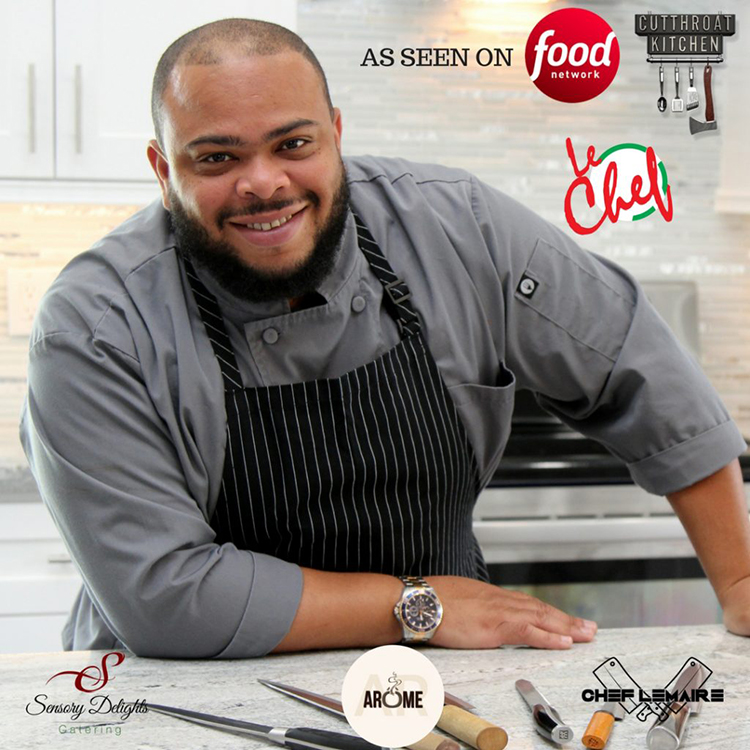 By Shavantay Minnis
Six years ago, chef Alain Lemaire, owner of Sensory Delight Catering, couldn't imagine running his own business, let alone competing on the notorious food network television series Chopped.
But, with guidance from the Small Business Development Center (SBDC) at Florida Atlantic University (FAU), it turned into Lemaire's reality.
Before launching his catering company, Alain Lemaire was a kitchen chef working at different events and festivals around the community. But the felt limited in creativity by the corporate menu. So, he and his partner Neima Belancourt-Heraux decided to launch Sensory Delight Catering, with a Caribbean inspired menu, for weddings, large corporate events and small private social gatherings.
With his two-man travel company, Lemaire said his referrals only came from the people in his small circle and the ones his parents would recommend. "As a new owner in the Haitian community there wasn't a blueprint to help me navigate how to market and gain attention for my company," he said. His business, which serves all of South Florida and the neighboring areas like Tampa, Orlando, Haiti and Atlanta, could not get the traction without help.
He needed a marketing plan and contacted his friend Diana Pierre Louis, an expert consultant in digital marketing, branding strategy and social media engagement at the SBDC at FAU. The two met in 2012 at a Caribbean festival, called Taste of Haiti, before Lemaire started his business. Pierre Louise was there to market the event, and Lemaire to cook.
"I saw early on how genuine she was during the event, bringing awareness to the culture and event," he said. "When it came to my business, she was no different and I am immensely grateful for it."
With Pierre Louis' assistance, Sensory Delights Catering received a virtual marketing plan that gave them a professional website, high ratings on Google and an active social media platform. Lemaire's attraction also increased to land him a role on the previous food network show Cutthroat Kitchen, in addition to Chopped.
"The growth we have is due to Diana's advice. From our style to the way I see and execute things. She has taught me so much," Lemaire said. "We still have more growing to do but with her and the Florida SBDC at FAU, our plans to open a permanent location will finally come true."