FAU Office of Information Technology News
Fort Lauderdale Main Open Computer Lab Revamped
Friday, Mar 15, 2019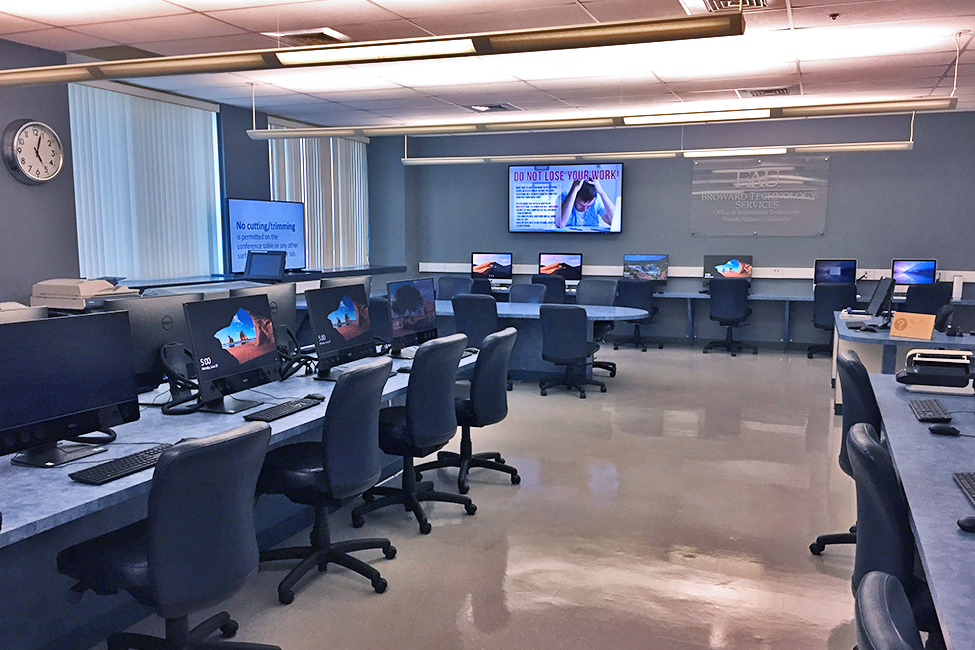 ---
As part of OIT's continuing "Refresh Program", Broward Technology Services (OIT-BTS) completely revamped the Main Open Computer Lab of the Fort Lauderdale Campus.
The Main Open Computer Lab, located in HEC-611, was totally upgraded. The layout of the space was re-designed to provide more space, as well as a group meeting area. The students will be able to connect their laptops to a 65" TV to work in group projects while charging their mobile devices with USB charging ports.
In addition to the upgrade of the infrastructure, all of the machines were also upgraded. The facility now has new, all-in-one Dell Precision 5720 machines with 27" monitors. These machines are running Windows 10, and they have 32 GB of memory, 512 GB solid state drives, and a processor of 3.6 GHz.
In addition, 2 new Apple iMacs with 16 GB of memory, 512 GB solid state drives, and a processor of 4.2 GHz were added to the space. The lab also got a new Fletcher 60" cutter/trimmer machine for paper and foam board up to ½ inch thick.
These upgrades are in accordance with Florida Atlantic University's Strategic Plan (Goal 5: Building a State-of-the-Art Information Technology Environment). Click here for more information about equipment now available at this facility.