FAU Researcher Mentors Tomorrow's Researchers
FAU Researcher Mentors Tomorrow's Researchers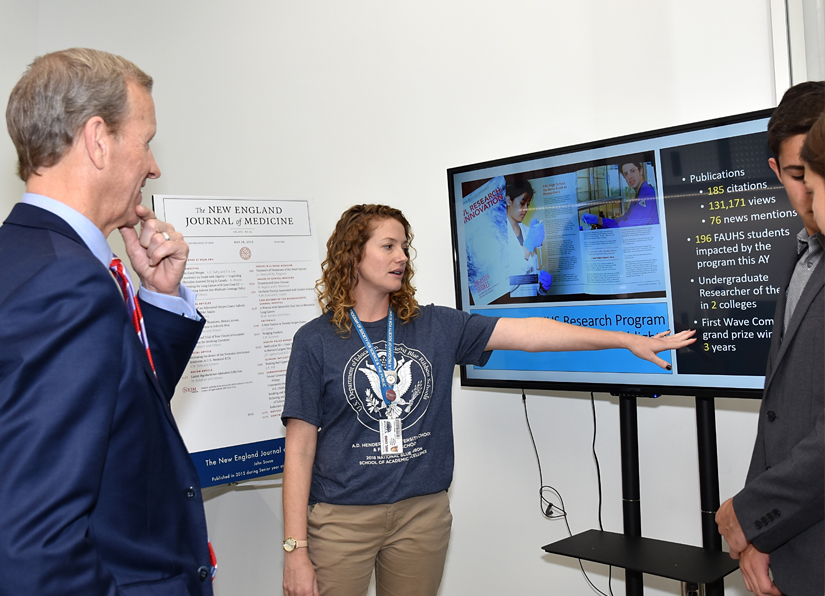 ---
by Teresa Crane |
Tuesday, Feb 04, 2020
Florida Atlantic University's Assistant Research Professor, Tricia Meredith, was invited to speak at the Women's Leadership Summit held at Gainbridge LPGA at Boca Rio, Boca Raton, FL. She was chosen as a top female leader who inspires lasting change, evidenced by her presentation titled Mentoring Tomorrow's Researchers: Helping Students Make Big Discoveries for a Better World.
Meredith, Ph.D., serves as Director of Research for A.D. Henderson University School and FAU High School, a public elementary and middle school, and a dual-enrollment high school, located on FAU Boca Raton Campus. She designed and implemented the innovative FAU High School Research Program that provides a support system with faculty mentoring and research skills enabling students to produce publication-worthy research projects. She recently created an Imaging Lab to further students' research capabilities.
"The world of research can be tricky to navigate. It is filled with unspoken rules, confusing customs and hidden obstacles. Our program allows us to teach these unspoken rules and work through how to navigate hidden obstacles together," said Meredith.  She takes pride in her students' accomplishments which include winning research grants, presenting at international conferences, publishing/patenting their research output, being selected for top STEM graduate programs and landing amazing jobs.
Meredith began her research at UNC Wilmington where she completed a faculty-mentored undergraduate research thesis. She later came to FAU as a doctoral student, studying sharks. Her dissertation focused on the sense of smell in elasmobranch fishes (sharks, rays, and skates). Next, she began a 2-year postdoctoral research position at the University of Miami's Miller School of Medicine. Her research focused on the taste system in mammals to determine how the hormone leptin influences the sensitivity of taste cells and communication. After a year as the Assistant Program Director at Florida Atlantic University's Office of Undergraduate Research and Inquiry, she is now an Assistant Research Professor in the College of Education who has developed and implemented a Research Program for FAU High's dual-enrolled students.
Since Meredith began her current role in 2015, FAU High students have co-authored 40 peer-reviewed publications, cited 268 times by other researchers. They have been awarded 115 grants and have delivered 255 research presentations at conferences and symposia. And two students have patents as a result of their research.
"The spirit behind this program is that we don't have to learn everything by trial and error. Some things can just be explicitly taught, so that everyone has a chance to realize their potential."