COE Alum Martha Brown on Restorative Justice in Schools
COE Alum Martha Brown on Restorative Justice in Schools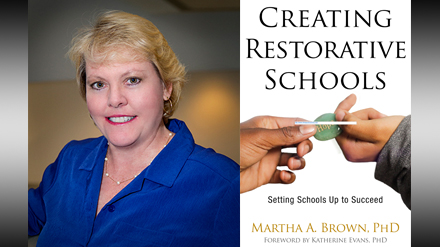 COE Alum Martha Brown on Restorative Justice in Schools
---
by Teresa Crane | Friday, Feb 23, 2018
Martha A. Brown, Ph.D., is an author, consultant, presenter, evaluator, teacher, and advocate of restorative justice. She earned her doctorate in Curriculum & Instruction from Florida Atlantic University in 2015 after first exploring restorative schools in the United Kingdom and then ultimately conducting her dissertation research in partnership with the Oakland Unified School District in California. Her new book, Creating Restorative Schools: Setting Schools Up to Succeed, features research conducted at two middle schools in with different student populations and resources. With the help of insights offered by students, teachers, staff and administrators, Brown shares a holistic picture of each schools' relational ecologies and threats to program fidelity, consistency and continuity.
Brown is the lead instructor for Simon Fraser University's Continuing Studies Restorative Justice Certificate Program, where she facilitates learning for adult students in Canada, United States, Australia, Africa, and other countries worldwide. She has published several peer reviewed articles, book chapters, and book reviews regarding restorative justice, correctional education, and evaluating art education programs. She has also presented nationally at conferences sponsored by the National Association of Community and Restorative Justice (NACRJ), the International Conference on Conflict Resolution in Education (CRE), the American Evaluation Association (AEA) and the Canadian Evaluation Society (CES).
In 2016, Brown founded RJAE Consulting, Intl. to provide planning, evaluation, and other consulting services to schools, school districts, correctional facilities, and organizations focusing on restorative justice or art education.  She can be reached via her website at www.rjaeconsulting.com or email martha@rjaeconsulting.com .
For more information about Creating Restorative Schools: Setting Schools Up to Succeed, visit http://www.livingjusticepress.org/ .