FAU Broward Campuses News
Enrollment Doubled on the FAU Fort Lauderdale Campus in Fall 2021
by Roberto Santiago & Alberto Fernandez |
Saturday, Jan 01, 2022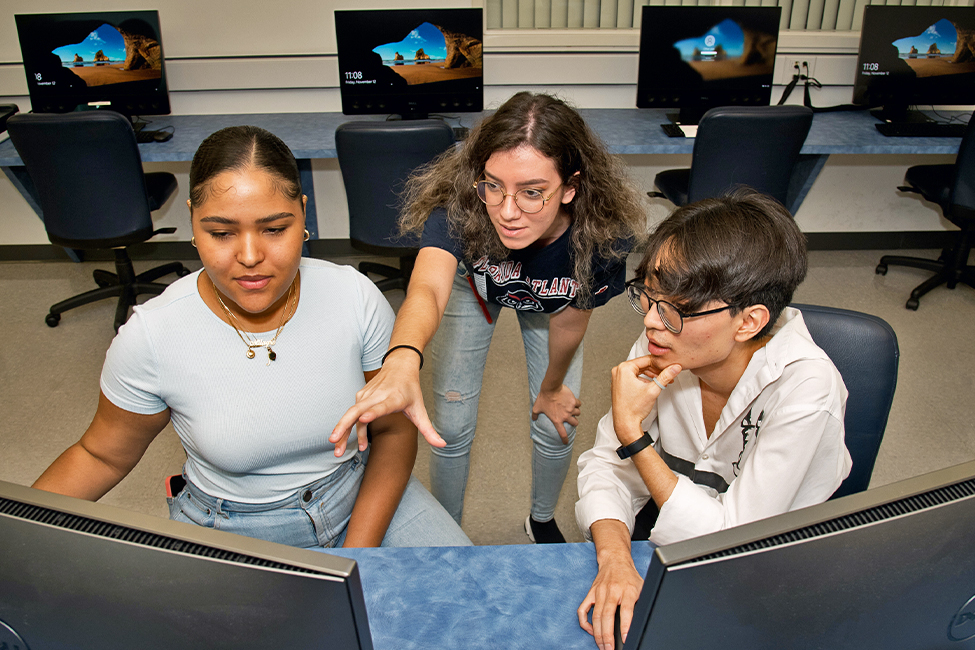 ---
The FAU Fort Lauderdale campus has expanded its course offerings over the last six months and is expected to grow even more in 2022. "We are very excited about the enhanced offerings at our downtown campus," said Dr. Michael Horswell, Dean of the Dorothy F. Schmidt College of Arts and Letters. "Over the summer of 2021 the College of Arts and Letters moved the Film, Video, and New Media production and Graphic Design programs to Fort Lauderdale to join our thriving School of Architecture on that campus. We were excited to have had 415 students registered at Fort Lauderdale in Fall 2021. Though the students are spread out over several floors of the Higher Education Complex, there are more students in classrooms, lounges and in common spaces, so it feels very vibrant. We expect that number to grow as we begin promoting the new program offerings we will have downtown."
Dr. Carol Mills, Director, School of Communication and Multimedia is happy about the changes. "In an era of increasing media and technological convergence, leveraging the strengths of three units and their resources in one facility, allows for new creative and research possibilities. Soon, students will benefit from curricular enhancements that allow them to explore topics and coursework in related fields. For instance, architecture students may benefit from courses in filmmaking and animation, and SCMS students can explore advanced courses in drawing and 3D modeling. Fort Lauderdale will also provide a home for extracurricular events that are compelling for faculty, students, and community members interested in creative arts and media, such as the Flamingo Film Festival," she said.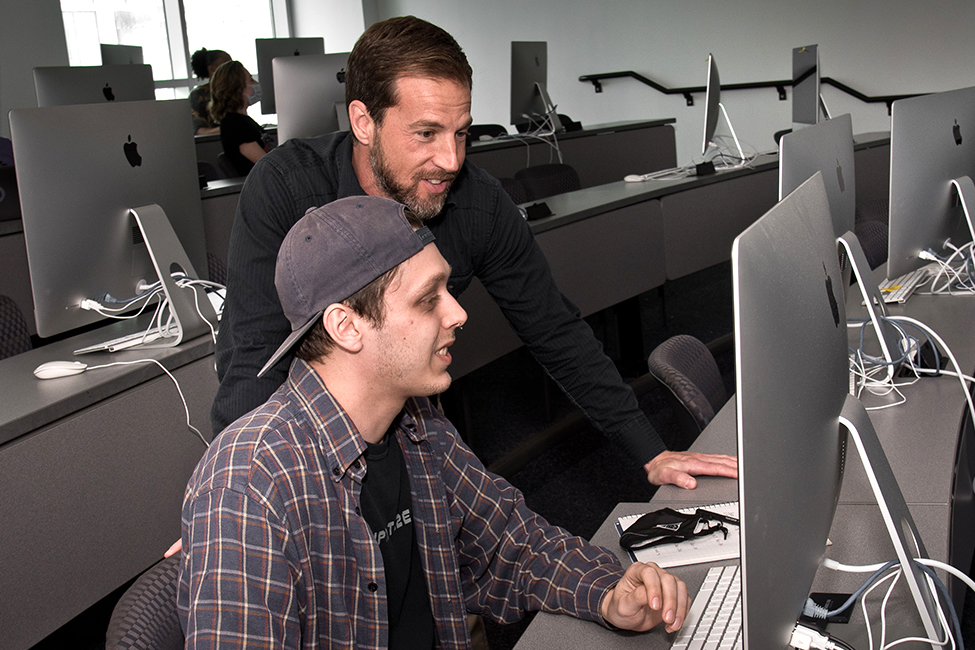 Francis Lyn, Interim Director of the School of Architecture, loves the new energy that is taking place at the downtown campus. "We are seeing interaction between students from Graphic Design and Architecture," said Lyn. "This interaction really did not exist before." Lyn said the Graphic Design Laser Cutter is also now housed in the School of Architecture FabLab, allowing students from both disciplines to work alongside one another on their projects. "This room also contains various other digital fabrications equipment such as 3D printers and CNC Router where future students may have the opportunity for greater collaboration," he said.
According to Dr. Horswell, there are 45 in-person classes from Arts and Letters offered at the downtown campus for the Spring 2022 semester. Twenty-four of these classes are new offerings at that campus, compared to academic year 2020-2021. Students will also find newly renovated classrooms, studios, and collaborative workspaces. And there are more space and technology improvements in the works for Fall 2022. Horswell said the Metro Lab space on the first floor will grow its public exhibitions and other academic and research programs for the benefit of the students as well as the community.
"Our vision is to establish a Center for Design, Arts, Architecture and Technology (CODAT), a collaboration between the School of Architecture, the School of Communication and Multimedia Studies and Visual Arts and Art History with emphasis in Graphic Design," Dr. Horswell said. "The three units are working together to enhance physical resources for students, including new labs, new work spaces and new collaborations between faculty and students. The freshness of the workspaces and enhancements of the labs will expand the student experience and the atmosphere is already very friendly with a great energy looking to the future." Teams of faculty from all three programs are meeting regularly to develop new student experiences for the immediate future, including collaborative public events. "In addition, we are developing several important industry partnerships with local and national companies to ensure our students are prepared for excellent careers in the growing Design and Creative Industries," he said.
Stephanie Cunningham, a professor of Graphic Design, said that the students like the single building campus because it is easy to navigate. "They enjoy being in the downtown environment. Most considered the downtown location to be more inspiring than the Davie or Boca campuses; it feels more exclusive to them," Professor Cunningham said.
Cunningham said students who take public transportation noted that it is easier to get downtown . "Once they are in the building, it feels safe because of the single point of entry. For some, downtown is a shorter commute but that is balanced out by the longer commute our far northern student's experience," she said. "On an unexpected note, some students in my VDL3 class, which works on a packaging project, noted that they enjoying going to the nearby Greenwise to check out the cool packaging. It serves as a library of sorts."
The College of Business is also expected to offer courses downtown in 2022.
"Fort Lauderdale Central Business District and nearby Flagler Village have experienced tremendous growth, renovation and change in the past ten years making this one of the most walkable and live-able downtowns in the southeastern United States," said Linda Johnson, Associate Vice President for Academic Affairs, Broward Campuses. "Florida Atlantic University has offered programs on our downtown Fort Lauderdale campus for over 30 years. Our expansion of academic programming makes it possible for residents to live, work, play and learn in a dynamic and vibrant downtown community."