FAU Broward Campuses News
The Davie Campus Liberal Arts Breezeway Receives a Colorful Update
by Nori Carter |
Monday, Aug 01, 2022
---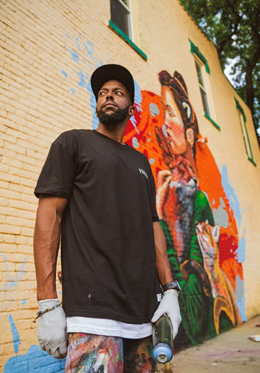 The Florida Atlantic University Davie campus recently received a colorful update to its campus culture with the addition of commissioned murals from artist Nate Dee. Sponsored by Broward Student Government, Campus Life and Broward Administration, the Liberal Arts Breezeway has come alive with four columns artfully painted in the themes of "Welcome to FAU", "Owl Spirit", "Diversity", and "Environment". Over a year in the making, the project was initiated from the interest of students. Once Nate was selected from sample renderings provided, the project was underway with the artwork reviewed by students for their input. The four-sided columns ranging from 11 to 13 feet high were designed with representations of FAU, including diverse languages, accessibilities, genders, sexual orientation, ethnicities, flora and fauna of Florida, and sports.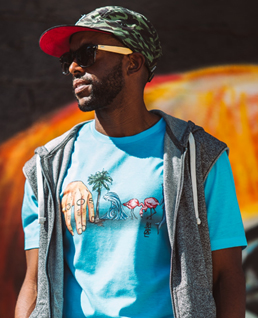 Born and raised in South Florida, Nathan Delinois (Nate Dee), has numerous influences from his Haitian background and the use of color in a lot of Haitian art, as well as in street art to the design quality of the Art Nouveau movement and the drama of Greek art from the Hellenistic. Additionally, he takes some influences from the pop surrealists. Nate shared, "The series that I am working in is similar to a potpourri with a mélange of images and patterns. Although each piece is usually a direct response to the text contained within, I still try to keep the actual meaning as ambiguous as possible. I want the viewer to find his or her own meaning and relationship to the artwork. At first glance there is a sense of whimsy in my work that is grounded by its urban visual elements."
Having been featured in magazines such as Delve, Making Waves, WeMerge, DUO & the Miami New Times and listed as one of the 10 Miami Artists to follow on Instagram by the New Times, his murals have taken him across the globe doing commissioned projects worldwide. The FAU Davie campus is now home to another location where his work can be viewed with Owl pride.