FAU Broward Campuses - Student Spotlight
Alexis Base
Wednesday, Dec 01, 2021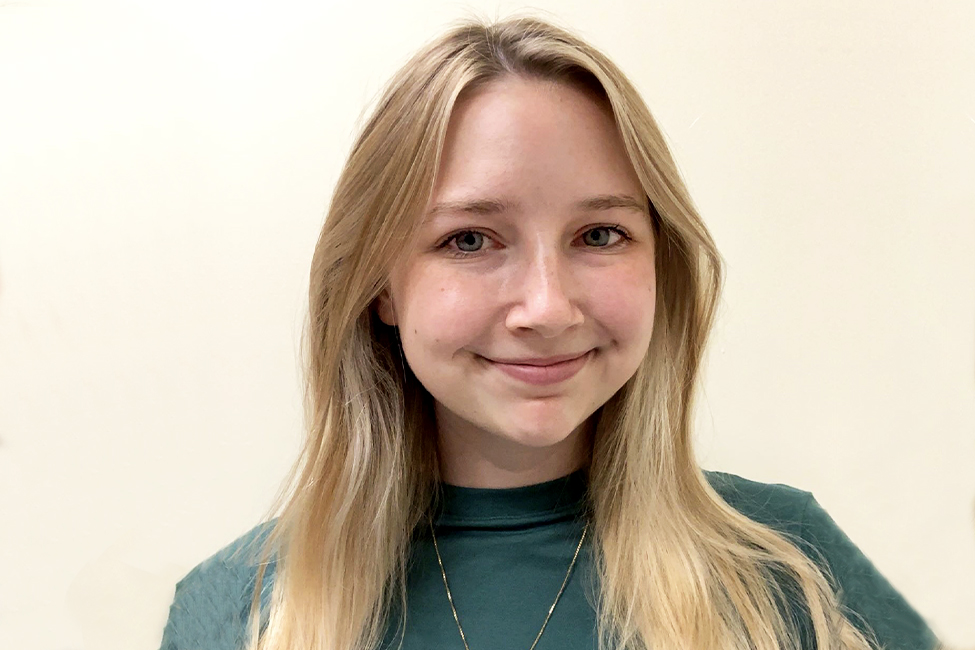 ---
Ocean Engineering | Class of 2022
Alexis Base, an Ocean Engineering student conducting research at the FAU Sea Tech campus, is scheduled to graduate in May 2022 with a Bachelor of Science from the Department of Ocean and Mechanical Engineering, College of Engineering and Computer Science. She started at FAU as a duo-enrolled student at FAU High School, where she graduated in 2019. "As part of the dual enrolled program I was able to start research in my 9th grade year which, propelled me into success at both the high school and collegiate level. I was able to collaborate with faculty and utilize lab space while still working towards my high school degree," Base said. "I was, as far as I know, the first 9th grade student to secure an undergraduate research grant and I was also able to place first in the undergraduate research symposium at FAU."
In that same year Base was able to attend the largest and most prestigious science fair event INTEL ISEF on behalf of Florida. FAU High School also allowed her to access to resources like 3D printers and laser cutters that she was able to gain operation proficiency in. "FAU High gave me the opportunity to jump start the 5-year degree in Ocean Engineering which now makes me one of, if not the, youngest in my class at 20. It also allowed me to start an internship helping undergraduates as a high school student conduct doctoral-level research," Base said.
The first research project Base worked on began when she was in 8th grade at AD Henderson and developed into a larger research endeavor through her high school sophomore year in 2017: Developing an Image Recognition and Motor Control Algorithm for Pterois volitans' (Red lionfish) Population in South Florida.
"I was able to develop an unmanned underwater vehicle that had a stereoscopic imaging system using multiple algorithms and light filtering techniques to accurately identify Lion fish in the harsh lighting conditions underwater," she said. "Later on, a team of students at FAU wanted to start the research project up again so I joined their team in 2020 for a brief period as part of the FAU WAVE competition." In that year, Base was recognized by the FAU WAVE competition as one of its "Five Innovators Worth Watching."
In her junior and senior year of high school and part way into her first year as a FAU student (2017-2020), Base worked on a research project called Developing a Solution to Ocean Acidification using Excess C02 from Power Plants. "This was my idea for developing a solution to ocean acidification and the development of a nickel nanoparticle aerogel proved promising for aiding CO2 conversion to calcium carbonate. The calcium carbonate is essentially like limestone that may be beneficial for applications such as costal erosion or targeted ocean acidification relief efforts," Base said. https://www.youtube.com/watch?v=TlXR4m2-6Pg
This past summer, Base was a researcher in the FAU Harbor Branch Summer Intern Symposium where she spent 10 weeks working on her project: A Digital Holographic Imaging System for In Situ Measurements of Marine Particles, Plankton, and Fish Larvae. "This is an ongoing project with FAU HBOI and Dr. Aditya Nayak, this started as part of my HBOI summer internship for 2021 and I am continuing to work with Dr. Nayak on the testing and applications of a submersible holographic imaging system known as the AUTOHOLO," Base said. "We were able to test this at Pacific Northwest Laboratory (PNNL) and collected a large database of sturgeon images to aid in future machine learning training models."
Base says her favorite experience at FAU to date is her Senior Design class with Dr. Pierre-Philippe Beaujean this year. "The weekly presentations, the last-minute testing, and the collaborative effort and talent of the like-minded individuals that comprise my team. I have also had a great time on a Halloween dive with the FAU Scuba dive club recently that was a lot of fun," she said. Base also enjoys her Data Analysis class, also taught by Dr. Beaujean.
Base plans to work towards her Ph.D. in Ocean Engineering and her Professional Engineer (PE) license after she passes her Fundamentals of Engineering (FE). "My ultimate goal is to work towards my own company dedicated to protecting Florida's coastline working on a variety of innovative solutions that are beneficial to us as well as our environment," she said.
During her limited free time Base enjoys diving. She is currently working towards her scientific diving certification. "I like diving specifically because I can relax and finally be separated from technology. I am often frantically using technology with the inability to stop so a nice dive or even snorkeling allows me to feel detached and finally present with my surroundings. It is definitely a nice reset," Base said.