FAU Broward Campuses - Faculty Spotlight
Stephanie Cunningham
Tuesday, Feb 01, 2022
---
Associate Chair & Professor | Department of Visual Arts & Art History
Stephanie Cunningham is Associate Chair and Professor of Graphic Design in the Department of Visual Arts and Art History, Dorothy F. Schmidt College of Arts & Letters. She received a BFA in Industrial Design from the Kansas City Art Institute and an MFA in Design from the University of Notre Dame. Cunningham is a past-president of the AIGA American Institute of Graphic Arts (AIGA) Miami chapter and served as the Duane Hanson Allied Artist for the Public Art Master Plan for the Fort Lauderdale/Hollywood International Airport. Cunningham, who has taught at FAU for almost 25 years, said many of her students are commuters who do not have the typical resident student experience. "This is why over the years, I have worked hard to create events and opportunities that provide them with a sense of belonging to something they can be proud of," Cunningham said.
"In December my Visual Design Lab 3 class worked on ideas for the first-floor windows facing Las Olas," Cunningham said. "We established a set of criteria and objectives. The students worked on concepts that were presented for feedback. The class worked together to refine and install the final concept. The idea was to enliven the windows and announce to pedestrians and people in vehicles that FAU has creative programs in the building. The design included lighting to help add a festive feel for the many holiday activities that attract downtown visitors. We are now working to revive the Broward student juried exhibition."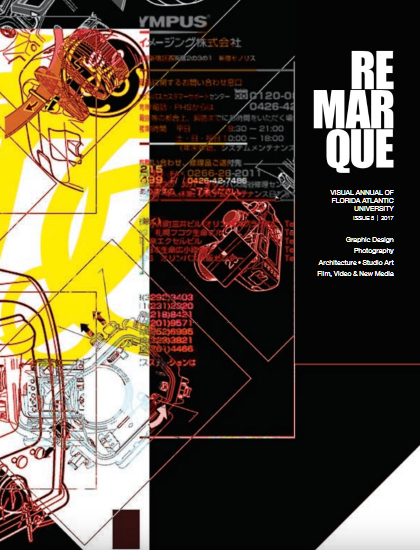 Cunningham also oversees Remarque , the annual design journal that showcases some of the best work from graphic design, film, video, new media and architecture students. " Remarque is the brainchild of a group of students who graduated about 10 years ago," she said. "Working on the magazine provides practical experience that is hard to replicate in the classroom. For the students featured in the magazine, it is exciting to see their work recognized in print. Something about the smell of ink on paper, a glossy cover, and the print artifact is so much more rewarding than a website."
In terms of unusual and memorable experiences at FAU, Cunningham remembers taking her student group to New York City during its coldest recorded temperatures in 100 years. The boiler broke in the youth hostel where they stayed and there was no heat for one night. "It was quite a shock to the students who had never experienced truly cold temperatures," she said. Cunningham has served on 20 MFA thesis committees and chaired another 11. She has also brought in numerous high-profile national designers to speak to FAU students.
Cunningham said that Graphic Design chose her. She studied Industrial Design as an undergraduate student and interned as a Graphic Designer for Universal Press/Andrews McNeel Publishing. "The internship provided me with a well-rounded portfolio that landed me a temporary job with Hallmark working on a trade exhibition the summer after graduation. That led to working as a professional graphic designer in Chicago and eventually an MFA in Graphic Design. "The diverse experience of my education informs how I approach all of my creative work," Cunningham said.
As an artist, Cunningham's work makes use of a carefully crafted symbolic language, a desire to give form to concept, and an exploration of a wide variety of materials and processes. She explores the relationships between text, form, and meaning and often makes use of multiples. Cunningham's work has been exhibited widely and recognized by a number of awards and acquisitions. Her design work has appeared in select publications including, Big Book of Logos, Prix Ars Electronica, The Computer in the Visual Arts, and Eye: The International Review of Graphic Design. Cunningham said that establishing work/life balance between her work as a professor and her creative research remains a challenge. "Conceptual projects take time to develop. Uninterrupted time is rare during the academic year. Summer is my time to develop or execute projects. The semesters are used to seek and apply for opportunities, work on the written component of projects, or spend time on production details. Sabbaticals are essential to refocus on my creative work. Luckily, I have one next year."
Cunningham, who was born in Burlington, Vermont, and has lived in Guam, Indiana, Missouri and Illinois, divides her time with her husband in Fort Lauderdale and in Santa Fe, New Mexico, where he has a sculpture studio. For fun, they enjoy international travel. "There is little free time during the school year but when given the chance, I visit art venues and try to stay in touch with the creative pulse of South Florida. Hiking, biking and yoga keep me active and grounded," she added.