REU 2023 - Cognitive Wireless Radios for Maritime Robotics
Marine and Environment
Cognitive Wireless Radios for Maritime Robotics
Led by George Sklivanitis, Ph.D.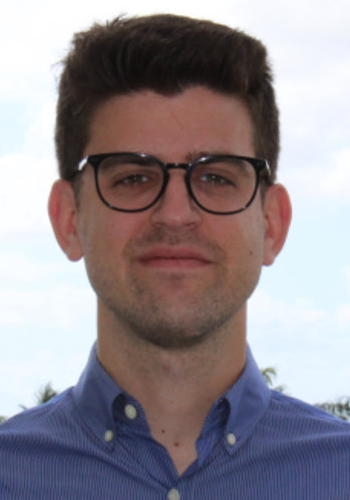 George Sklivanitis received the diploma degree in electronic and computer engineering from the Technical University of Crete, Greece, in 2010, and the Ph.D. degree in electrical engineering from The State University of New York at Buffalo in 2018. He is currently a Research Assistant Professor of Electrical Engineering and Computer Science with I-SENSE and the Center for Connected Autonomy and AI (ca-ai.fau.edu) at Florida Atlantic University. His research focuses on modeling, optimization and experimental evaluation of autonomously wireless networked systems in challenging, congested (and sometimes contested) communication environments such as underwater, in the sky and in space.
In 2014, he ranked 1st among all U.S. Universities in the Nutaq Software-Defined Radio Academic U.S. National Contest and in 2015 he received the Best Demo Award in the 10th ACM International Conference on Underwater Networks and Systems. He was also a recipient of the 2015 SUNY Buffalo Graduate Student Award for Excellence in Teaching, the 2016 SUNY Buffalo Student Entrepreneur Fellowship, and the 2017 SUNY Chancellor's Award for Student Excellence. In 2017, he co-founded IEEE WCNEE, a new workshop that targets research on wireless communications and networking in extreme environments. In 2017, 2018 and 2019 he was program co-chair for WCNEE. In 2019, he was a best paper award finalist in the 15th IEEE International Workshop on Antenna Technology (iWAT). Currently, he serves as a special issue editor for the MDPI Sensors journal on underwater wireless communications and networking.
PROJECT
The project focuses on the design, development, and evaluation of ocean IoT hardware and software for high-rate and secure marine data acquisition. The next frontier of maritime networking will see the deployment of large-scale buoy and drifter-based mesh networks with an equal emphasis on both secure high-speed data transfer and energy efficiency. The objective of the project is to deploy small form-factor, AI-assisted, programmable modems that build self-optimized networked swarms of underwater and sea-surface sensors. The intellectual merit of the proposed REU project stems from significantly advancing: (1) AI-assisted wireless communications in acoustic/ultrasonic frequencies (underwater) and mm Wave frequencies (on the water surface); (2) ambient energy harvesting generation for battery less ocean IoT; (3) security for multimodal optical and acoustic networking. The broader impacts of the project derive from the anticipated advancements in open-source, software-defined IoT architectures for buoys, drifters, and underwater robots. The effort has the potential to benefit BlueTech and ClimateTech by accelerating data collection activities for ocean engineers and marine scientists and supporting Blue Economy applications in offshore energy, seabed mapping, ocean search-and-rescue, oceanography, fisheries and maritime transportation. The project will involve two REU participants each summer, with a primary focus on developing and evaluating maritime networking algorithms and protocols through simulation studies and real-world experiments. The participants will work together as a team to design and develop electronic subsystems and supporting software for ocean IoT platforms. This will require an iterative design process under the supervision of Dr. Sklivanitis. The intent is for one participant to focus on hardware developments for energy-efficient ocean IoT and the other to focus on software simulation of algorithms for secure and high-rate maritime networking, with both students participating in experimental evaluation. In practice, the students are likely to collaborate across both areas. The participants will gain experiences and skills in a variety of areas, including signal processing, AI/ML, wireless, robotics, and software-defined radios.