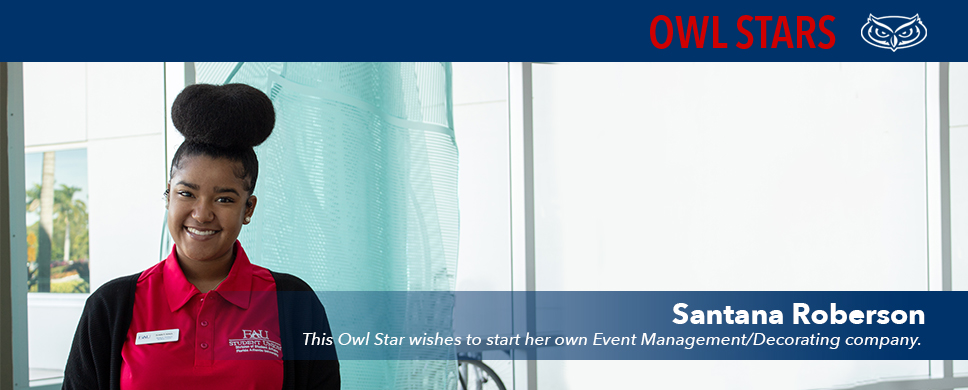 Santana Roberson
Santana Roberson is a from Miami, Florida. During a college fair at her high school, she had a conversation with a representative from FAU whom not only spoke of the diversity and greatness at FAU but was also able to show her all that we had to offer. "During my initial visit/tour of Florida Atlantic University, the feng shui of the campus was warm and welcoming and I instantly felt to be right where I belonged."
During her time at FAU Santana is studying in the College of Business to obtain her degree in Hospitality and Tourism Management. She is currently employed at the Student Union as a Reservation Specialist and is involved in multiple student organizations with leadership roles.
Upon graduating Santana wishes to start her own Event Management/Decorating company. She would also like to to take the time to explore other areas she finds interests in she loves talking to people on a personal level so being a life coach or counselor is also something she would like to explore, she has a great passion for painting in my spare time and she hopes to also make this a lucrative source of income.
College:
College of Business
Major:
Hospitality & Tourism Management
Class:
Senior
Hometown:
Miami, Florida
Clubs and Organizations:
Reservation Specialist, Student Union, Black Student Union, National Society of Leadership and Success(NSLS), also known as Sigma Alpha Pi, Student Alumni Association(SAA), National Council for Negro Women(NCNW), the National Association for the Advancement of Colored People(NAACP), and the Women's Empowerment Club(WEC)
What do you feel makes you unique amongst your peers?
Though I consider my peers to be great and well-rounded individuals, I believe that my genuine passion to help others and make others feel happy and fulfilled while in attendance here at FAU is what sets me apart from my peers. Most people in student organizations only look for the numbers to make them feel as if their event/program was successful whereas I look at what lessons were taken from the event/program, what our attendees gain spiritually, mentally, physically and how they can apply and utilize these tools in their everyday life.
Words to live by:
"You can't go back and change the beginning, but you can start where you are & change the ending." – C.S. Lewis

Advice for fellow students:
Remember that your main reason for attending a University is to get an education. Get involved in things that genuinely interest you, utilize the resources offered on and off campus, be open minded to new ideas and people and always put your mental and physical health before anything.