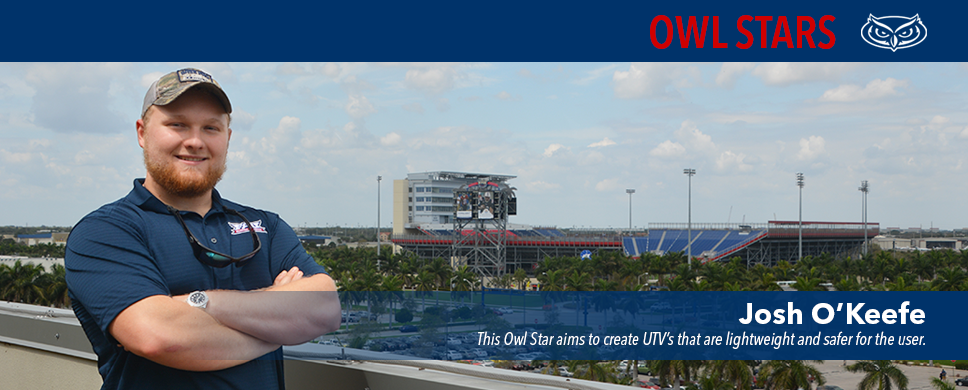 Josh O' Keefe
Josh O' Keefe is a sophomore majoring in mechanical engineering. While visiting Florida Atlantic University with his high school, O'Keefe had the opportunity to meet with the Director of Admissions about his interest in the College of Engineering.
"Later that day on the bus driving back to St. Petersburg, Fla. I received an email with my acceptance to FAU," O'Keefe said.
Working as a Resident Assistant at the University Village Apartments and competing in the FAU Campus Recreation Strong Owl competitions is how O'Keefe stays active on campus.
As a young child, O'Keefe would watch the Strong Man competitions on TV with his dad. "When I got to FAU and heard of the Strong Owl competition, I was sure to sign up," O'Keefe said. This year, O'Keefe won first place in the 200-250 lb. weight class.
He explained that the most difficult part of college is trying to grow up on your own without relying on your parents.
Over the summer, O'Keefe plans to take classes at his local college in St. Petersburg.
When asked what he would like to accomplish after graduation, O'Keefe said," I want to work to create a new model of Utility Task Vehicle's to be safer and more lightweight. For example, if a UTV was to flip over, there would be a structural gyroscope inside that would help balance out the UTV and allow it to maintain its function." He hopes to work in the mechanical engineering field in Gainesville, Fla. to pursue his career and stay close to home.
College:
College of Engineering
Major:
Mechanical Engineering
Class:
Sophomore
Hometown:
St. Petersburg, Florida
Clubs and Organizations:
Resident Assistant in University Village Apartments and a competitor in Campus Rec's Strong Owl competition.
What would you like to accomplish in the next five years?:
I would like to have finished school and be working in the field somewhere close to home, ideally in Gainesville.
Advice for fellow students:
My advice is to find a hobby that makes you happy. For me, it was building Legos, which inspired me to become an engineering major.