The Office of Undergraduate Research and Inquiry (OURI)

OURI serves as a centralized support office for students and faculty who are engaged in undergraduate research and inquiry. We offer university wide programs such as undergraduate research grants, the annual undergraduate research symposium, and the undergraduate research journal. We also support all colleges and departments in their undergraduate research and inquiry initiatives. 
About the Quality Enhancement Plan (QEP)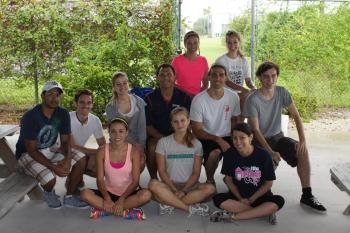 Florida Atlantic University sought reaffirmation of accreditation from the Southern Association of Colleges and Schools: Commission on Colleges (SACSCOC) in 2013. The reaffirmation process included a component that was designed to enhance student learning and further the mission of the university. FAU's Quality Enhancement Plan (QEP) Distinction through Discovery aims to improve student learning by expanding a culture of undergraduate research and inquiry across all disciplines at the university.  
FAU's definition of research focuses on inquiry. FAU faculty and students recognize inquiry to be a process and/or a product which centers on asking questions or solving problems and which encompasses intellectual traits that transcend subject matter divisions. Examples of such processes common to the disciplines include questioning existing ideas, identifying approaches to unstructured problems, thinking creatively, exploring new ideas and examining the processes by which knowledge is discovered.
The QEP aims to establish an undergraduate curriculum which provides students the intellectual skills necessary to successfully engage in undergraduate research and inquiry. FAU's Distinction through Discovery Goals are to:
Expand student co-curricular opportunities for undergraduate research and inquiry.  
Increase support and recognition for faculty and students who engage in undergraduate research and inquiry.   
Enrich and strengthen an institutional climate that supports undergraduate research and inquiry.
FAU received zero recommendations from the onsite SACSCOC visitation team in February 2013.  Such a report is achieved by very few colleges and universities undergoing similar reviews.
The Office of Undergraduate Research and Inquiry (OURI) was established and continues to implement this plan and strives to expand the research and inquiry culture at FAU in collaboration with all colleges and programs. 
OURI Annual Reports 
2012-2013 Annual Report PowerPoint
OURI Committees and Faculty Liaisons 
OURI  was developed  from the QEP, and was guided and advised by a series of committees comprised of over 70 faculty, staff, students, and alumni representing all colleges and campuses at FAU.  These dedicated committee members established and guided the vision and mission of OURI in support of FAU's undergraduate research and inquiry initiative.  
OURI is now guided by faculty and students involved in the OURI Faculty Liaisons and Peer Mentor programs. 
  Our office is located on the Boca Raton campus in General Classroom South (GS-2),  in the Center for Teaching and Learning, Suite 212
Contact us by email at ouri@fau.edu or by phone at 561-297-OURI (6874)