Dawei Li, Ph.D.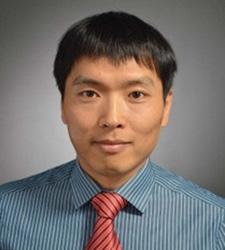 Associate Professor, Biomedical Science
777 Glades Road
Boca Raton, FL 33431
PS 55, Room 347
p: 561-297-6061
Department: Biomedical Science
---
Biography
Dawei Li, PhD, was trained in genomics and bioinformatics. His previous genetic research has led to identification of a number of disease-associated genes, particularly in psychiatric, behavioral, and addictive disorders. His recent focus is myalgic encephalomyelitis/chronic fatigue syndrome (ME/CFS). ME/CFS is a multi-system disease involving the immune system and brain. No diagnostic biomarkers, FDA-approved treatment, nor cure exists for ME/CFS. The cause of ME/CFS is unknown.
Dr. Li's research goal is to develop and maintain a multi-omics program involving bioinformatics development, genetic risk discovery, and translational medicine into diseases, particularly ME/CFS. Dr. Li's lab develops innovative methods, software, and applications. For example, they have developed new methods to genotype genome-wide individual transposable element variants. His lab also developed the first method to detect virome-wide viral integrations.
Dr. Li is the Chair of the Genetics and Epigenetics Working Group of the Interdisciplinary Canadian Collaborative Myalgic Encephalomyelitis (ICanCME) Research Network.
Education
2001: B.S., Microbiology, Northwest University, China
2006: Ph.D., Genetics, Shanghai Jiao Tong University, China
2008: Postdoctoral Associate, Statistical Genetics, Rockefeller University, New York City, NY
2012: Associate Research Scientist, Genomics and Bioinformatics, Yale University, New Haven, CT
Work History
2012-2020: Assistant Professor, Department of Microbiology and Molecular Genetics, University of Vermont, Burlington, VT
2021-present: Associate Professor, Department of Biomedical Science, Charles E. Schmidt College of Medicine, Florida Atlantic University, Boca Raton, FL
2021-present: Director of Genomic Medicine, Charles E. Schmidt College of Medicine, Florida Atlantic University, Boca Raton, FL
Peer-Reviewed Publications
Chen X, Kost J, Sulovari A, Wong N, Liang WS, Cao J,

Li D*

. A virome-wide clonal integration analysis platform for discovering cancer viral etiology. Genome Research . 2019 May;29(5):819-830. PMID: 30872350. (* corresponding author).
Chen X,

Li D*

. ERVcaller: Identifying polymorphic endogenous retrovirus and other transposable element insertions using whole-genome sequencing data. Bioinformatics . 2019 Oct 15;35(20):3913-3922. PMID: 30895294. (* corresponding author).
Chen X, Kost J,

Li D*

. Comprehensive comparative analysis of methods and software for identifying viral integrations. Briefings in Bioinformatics . 2019 Nov 27;20(6):2088-2097. PMID: 30102374. (* corresponding author).
Sulovari A,

Li D*

. VIpower: Simulation-based tool for estimating power of viral integration detection via high-throughput sequencing. Genomics . 2020 Jan 10;112(1):207-211. PMID: 30710609. (* corresponding author).
Mathkar PP, Chen X*, Sulovari A,

Li D*

. Characterization of hepatitis B virus integrations identified in hepatocellular carcinoma genomes. Viruses . 2021 Feb 4;13(2):245. PMID: 33557409. (* corresponding author).
Chen X,

Li D*

. Sequencing facility and DNA source associated patterns of virus-mappable reads in whole-genome sequencing data. Genomics . 2021 Jan;113(1 Pt 2):1189-1198. PMID: 33301893. (* corresponding author).
Scholarly Activity
Other Affiliations or Duties
National Institutes of Health Center of Excellence on ME/CFS (ICanCME)
United States Department of Veterans Affairs West Haven Medical Center
Open Medicine Foundation ME/CFS Collaborative Research Center Montréal
Chair, Interdisciplinary Canadian Collaborative Myalgic Encephalomyelitis Research Network, Genetics/Epigenetics Working Group
Steering Committee, Interdisciplinary Canadian Collaborative Myalgic Encephalomyelitis Research Network
Advisory Board, Foundation for Alcoholism Research Editor, Journal of Bio-X Research (published by Wolters Kluwer)