Dr. Bloetscher received the Researcher of the Year Award at the Professor level for Sponsored Project Oriented Activities
Friday, Mar 24, 2023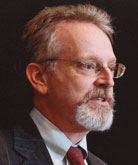 ---
Dr. Bloetscher  from Department of Civil, Environmental and Geomatics Engineering received the Researcher of the Year Award at the Professor level for Sponsored Project Oriented Activities in 2023.  Congratulations to Dr. Bloetscher on this award in recognition of his outstanding performance in research!
Dr. Bloetscher's research over the past 3 years is exemplary. He has secured research grants of over $2.6 million as PI and Co-PI in the past 5 years, with another $2.8 million coming in 2023 from nearly 20 communities located from Miami-Dade County to Walton County in the Panhandle related to  watershed master planning. Efforts will be devoted to the West Coast where Hurricane Ian came ashore, as well as because resiliency is a priority for Florida's coastline. Nearly $4.3 millions of these efforts are related to watershed master planning efforts for flood risk management and associated resiliency solutions. All of his watershed projects were granted to FAU non-competitively –meaning that these contracts were given to FAU because of the reputation and execution of Dr. Bloetscher and the team he has developed. The fact that these funds remain at FAU makes him among the most productive faculty in the university. This ongoing work has already yielded several peer reviewed papers and promise other publications forthcoming, on topics like hurricane impacts on coastal communities, watershed analysis on islands, and at-risk property simulations. All of these are cutting edge efforts being conducted at FAU and have brought positive respect and enhanced reputation to the college and university.

In addition to Dr. Bloetscher's accomplished research, he has supervised 11 graduate students (as committee chair), written five books and manuals and two dozen peer-reviewed papers in the past 5 years while serving as the Associate Dean for Undergraduate Studies and Community Outreach and teaching classes.

He has also provided service to industry by serving as an ABET reviewer and serving as Chair of the Florida Section of the American Water Works Association in 2021, after serving as Chair-elect, Vice Chair and Secretary from 2016-2020. He has also been the Florida Section AWWA conference chair since 2005 and the AWWA national groundwater chair for many of the past 25 years.