FAU Alumnus Chosen as SDPBC South Region Beginning Teacher of the Year
FAU Alumnus Chosen as SDPBC South Region Beginning Teacher of the Year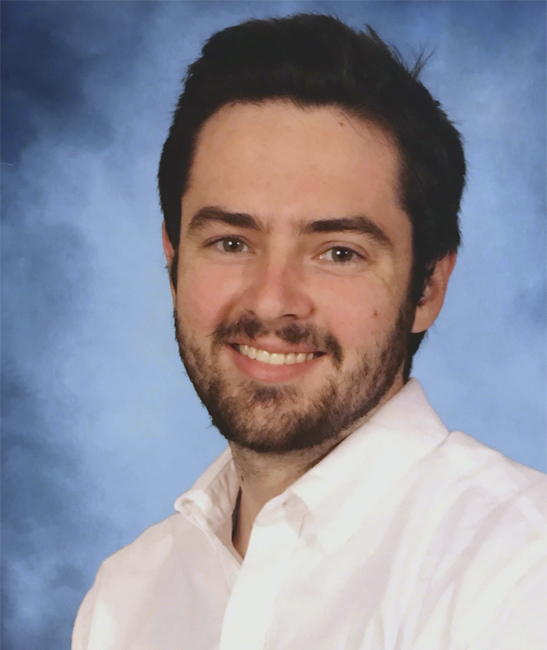 ---
by Josephine Elliott |
Thursday, Apr 01, 2021
An alumnus of the College of Education's Department of Teaching and Learning, who was an Accelerated Induction into Teaching (AIT) Student Teacher during the spring 2020 semester, was recognized as the Beginning Teacher of the Year in the high school category by the South Region Office of the School District of Palm Beach County for 2020-2021. 
Having graduated in May 2020 from Florida Atlantic University with a M.Ed. in Secondary Education plus Certification, Joseph Speicher now teaches biology at Park Vista High School, the same high school where he taught biology and environmental education as an AIT Student Teacher. 
"Getting into the AIT program, landing this teaching position and receiving this award is overwhelming and great," said Speicher.  "I could not be any happier."
Speicher credits the technological tools and skills, as well as the science teaching methods, he learned and implemented under the guidance of FAU's COE faculty as instrumental in preparing him to teach his classes effectively during these unprecedented times.  As challenging as dealing with the onset of a global pandemic that required a shift from fully in-person instruction to completely online instruction in the middle of his student teaching semester was, having to pivot from completely teaching virtually to teaching virtually and in-person simultaneously during his first year of teaching was an even greater adjustment, revealed Speicher. 
"One of the biggest things FAU faculty did to help me stand out at Park Vista High School was to take a lot of time in multiple, different courses to talk about technology in the classroom," noted Speicher.  For example, they demonstrated how to use Google Sweet Enigma and programs, such as Kahoot and Quizizz, which lets teachers create learning games and provide learning tools, respectively, that helps them interact with students and keep track of students' understanding of the material whether in-person or in a virtual setting. 
Another thing Speicher attributes to his success in creating compelling lesson plans is a teaching strategy that Ron Persin, Ed.D., a visiting assistant professor in the Department of Teaching and Learning, taught and modeled in the Science: Middle & Secondary School class Speicher took. Known as the five "E"s, the strategy requires teachers to:
Engage students to get them interested in the topic.
Explore the topic in a variety of ways.
Explain everything in detail.
Elaborate using higher order thinking questions.
Evaluate to see what the students learned and retained.
Additionally, Speicher's passion for his subject motivates his mostly 10th graders.  "I always had an interest in biology," declared Speicher, who majored in biology as an undergraduate at FAU.  "Biology lets us see how the world around us interacts with everything."  At first, Speicher wanted to be a veterinarian, but a few good science teachers in middle and high school inspired him to bring the same level of energy and interest to the subject and lab work to his own students.  "I thought I could make biology interesting for students and help them learn the material."
Reflecting on his experience in the AIT program, Speicher recalled that his AIT Mentor, LaVoise Smith, helped him with the transition to digital instruction. Mentors initially meet with their assigned student teachers at the end of every day in person and then less frequently as the semester progresses.  "Once the pandemic hit, she met with me remotely," he explained.  "She helped me every step of the way."
Also providing guidance when the coronavirus pandemic (COVID-19) struck, was Ernest Andrew Brewer, Ed.D., Assistant Dean, School Engagement, who coordinates the AIT program.  Robyn Klein, Ed.D., Coordinator of Student Teaching and Secondary Education, along with Persin, recommended Speicher for the AIT program.  AIT is a collaborative program between FAU and local school districts, whereby AIT Student Teachers serve as the teacher of record full-time during their student teaching semester.
His advice for education majors considering applying to the AIT program is to "make sure you are ready to have all the responsibility all at once," said Speicher.  "While you will have a mentor to turn to for advice, ultimately, the big decisions will fall on you.  As long as you learn from those decisions and apply what you learned in your courses, you will be able to roll with the punches and the uncertainty of COVID-19."  Some students find learning remotely easy while others have a hard time or lack resources, he observed.  As a teacher, "you need to be able to work with the family, be flexible" and be able to solve problems in real time on a daily basis.
Speicher appreciates the support he received.  The faculty at "FAU and Park Vista have been so kind and helpful," he stated.  "I would not have been recommended for this award if it were not for them."