Grammy-Winning Composer and Trumpeter Terence Blanchard at FAU
Grammy-Winning Composer and Trumpeter Terence Blanchard at FAU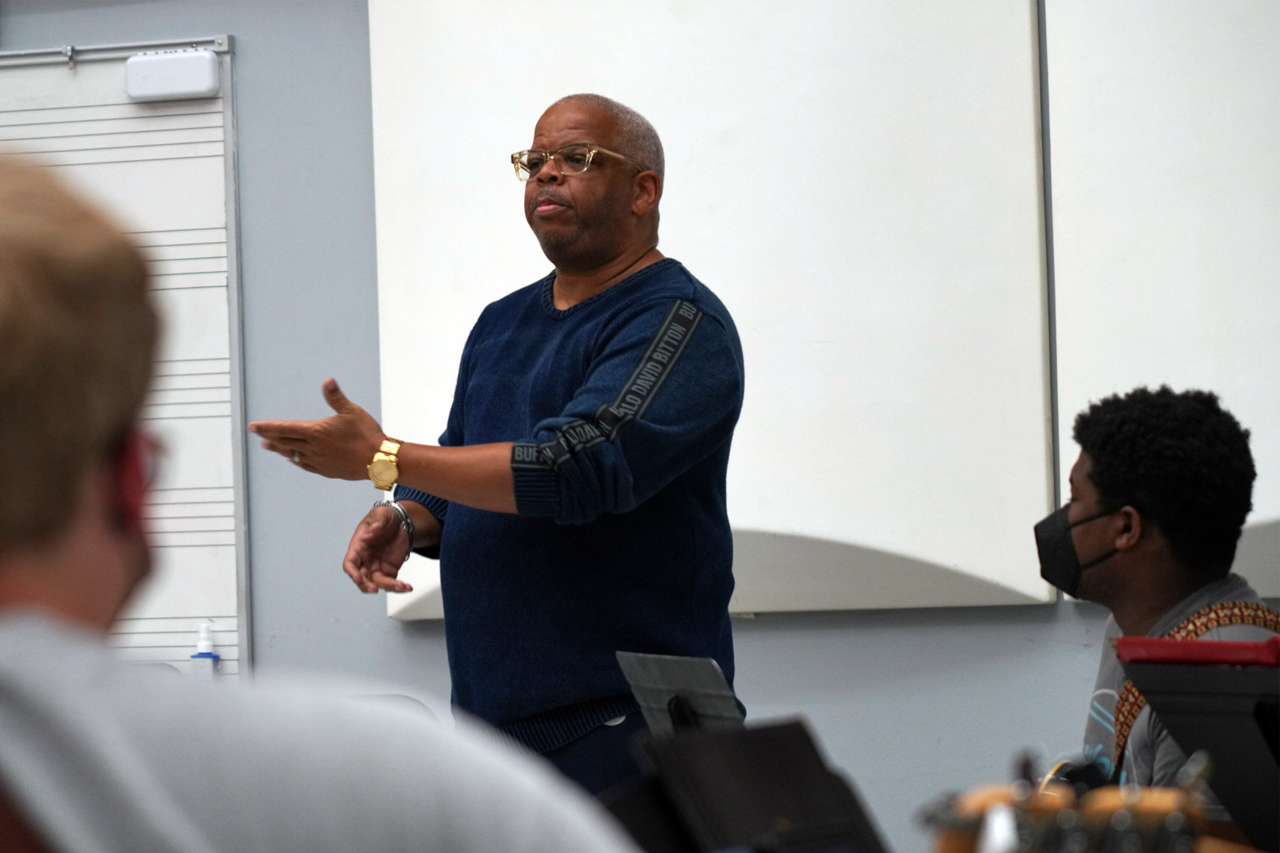 ---
Thursday, Mar 24, 2022
Grammy-winning composer and trumpeter Terence Blanchard visited with FAU Students in March as the 2022 Dorothy F. Schmidt College of Arts and Letters Eminent Scholar. Blanchard spoke with FAU Music Professor Michael Zager and a student audience about his work as a jazz musician, a film composer, and his collaborations with director Spike Lee, before taking questions from music students and film studies students. In the afternoon, Blanchard worked with the FAU Jazz Orchestra, coaching players on listening, intonation, crafting interesting improvisations, and general music industry wisdom. His residency was capped off with a performance at the Boca Festival of the Arts, where members of the FAU Jazz Orchestra served as his opening act.
Blanchard is a six-time Grammy winner and he won an Oscar nomination for his original score for Spike Lee's  BlackkKlansman. He was also BAFTA nominated for his original music for the film. He is also the 2018 USA Fellow trumpeter/composer. More recently, Blanchard has composed his second opera, Fire Shut Up in My Bones, based on the memoir of celebrated writer and  The New York Times  columnist Charles Blow. The libretto was written by Kasi Lemmons and commissioned by Opera Theatre of Saint Louis where it premiered in June 2019.  The New York Times  has called Blanchard's opera "inspiring," "subtly powerful" and "a bold affecting adaptation of Charles Blow's work." The Metropolitan Opera premiered Fire Shut Up in My Bones on September 27, 2021, making it the first opera composed by an African American composer to premiere at the Met. Blanchard's first opera, Champion also premiered to critical acclaim in 2013 at OTSL and starred Denyce Graves with a libretto from Pulitzer Prize Winner, Michael Cristofer.
Some of Blanchard's other film and television credits include Spike Lee's Jungle Fever, Summer of Sam, 25th Hour, Inside Man, and Miracle at St. Anna; Kasi Lemmons' films, Eve's Bayou, Talk to Me, and Harriet; George Lucas' Red Tails; Tim Story's Barbershop; the powerful documentary On the Record which was directed and produced by Kirby Dick and Amy Ziering and premiered on HBO Max in May 2020; and the critically acclaimed drama series Perry Mason starring Matthew Rhys with episodes directed by Tim Van Patten which premiered on HBO in June 2020.