Call for Papers for the 2023 ADSPA Florida Public Administration Colloquium!
Wednesday, Dec 07, 2022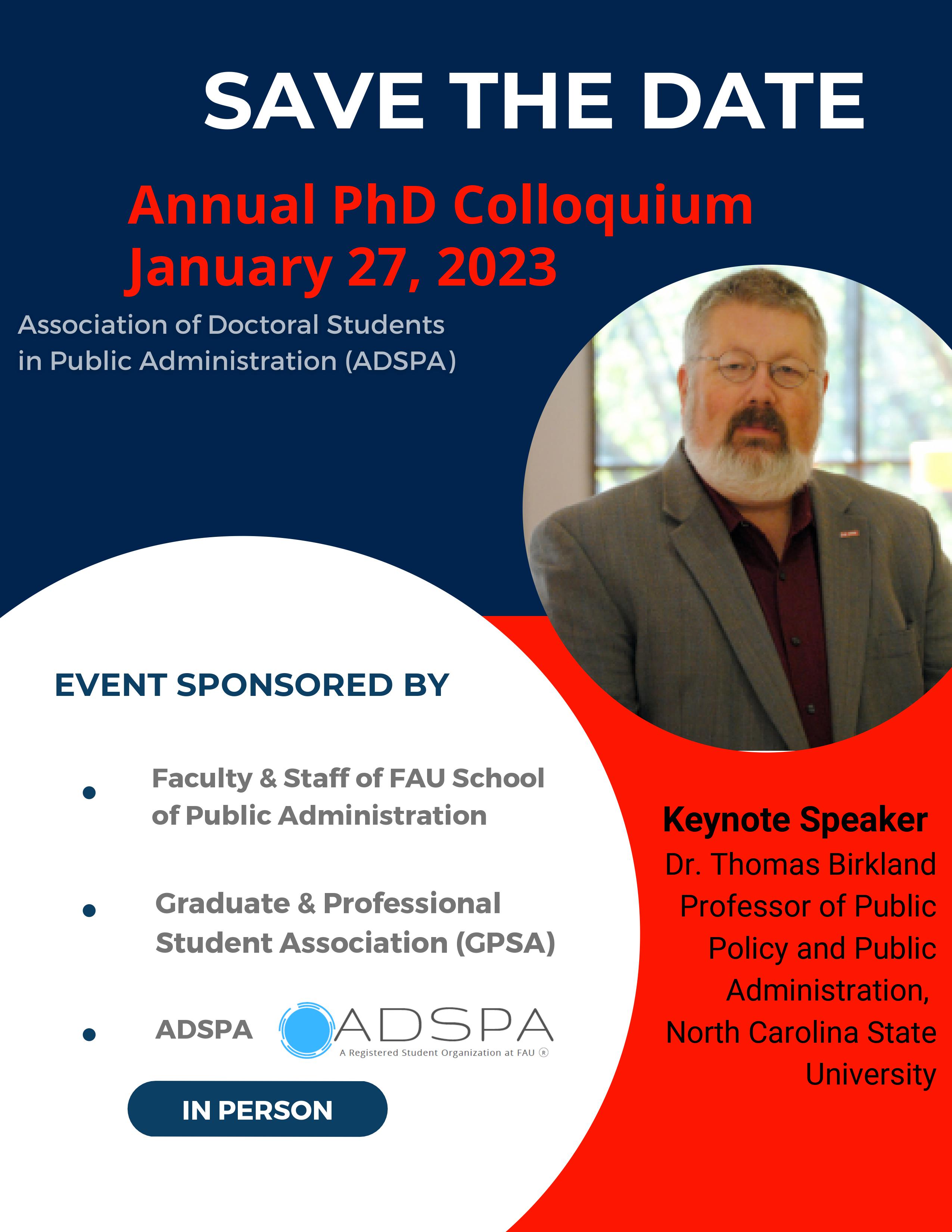 ---
GOOD GOVERNANCE AND DEMOCRATIC VALUES
January 27th, 2023 - Florida Atlantic University
Florida boasts a high volume and quality of doctoral students studying public administration and public affairs. Striving to
create statewide camaraderie, collaboration, and networking opportunities, we are proud to announce the Annual Florida
Public Administration Colloquium sponsored by the FAU Association of Doctoral Students at the School of Public
Administration (ADSPA). This single day conference is intended to consolidate and promote public administration research
and writing activities among doctoral students in Florida. There is no cost to attend.
The Colloquium will start promptly at 9 a.m. Opening remarks will take place between 9 and 9:15 a.m., and the first panel
presentation will begin at 9:30 a.m. Panels will last for approximately one hour, with a short break before the next panel
presentation begins. Lunch follows at 12:00 p.m., along with a presentation and discussion from our keynote speaker, Dr.
Thomas Birkland, Professor of Public Policy and Public Administration, North Carolina State University.
Conference Topics
The 2023 Program Committee invites paper and panel proposals that correspond to any of the following topics:
Reconciling democratic citizenship
and administrative neutrality
Building nonprofit capacity
Administrative burdens and social
equity
 Diversity in government
organizations
 The state of public service: workforce
challenges
Ethics and corruption
Immigration, border control, and
refugee crisis management
 Environmental policy and
sustainability
 Public administration and technology
Contemporary issues in society
Disaster management and social
media
Postmodern Public Administration
Open Theme
Proposal Submission
Individual paper proposals should be no more than one page. With your proposal, please indicate the
theme your paper addresses, your organization affiliation and contact information. At minimum,
abstracts require a paragraph discussion that includes your research question and what you intend to
study. Full papers do not need to be completed at this time. You may be asked to submit a DRAFT
of your paper to your panel moderator at least two weeks prior to the conference date in order to
facilitate fruitful academic discussions.
Proposal Deadline: Friday, December 16th, 2022
Submissions are due Friday, December 16th, 2022, and should be submitted in MS Word or PDF via
email to rlofaro2017@fau.edu. If you would like to request a specific time for presentation, please
indicate this in your proposal. We will make every effort to accommodate your request.