FAU and the Palm Beach Book Festival Present 'New York Times' Best-Selling Authors in a Virtual Festival
FAU and the Palm Beach Book Festival Present 'New York Times' Best-Selling Authors in a Virtual Festival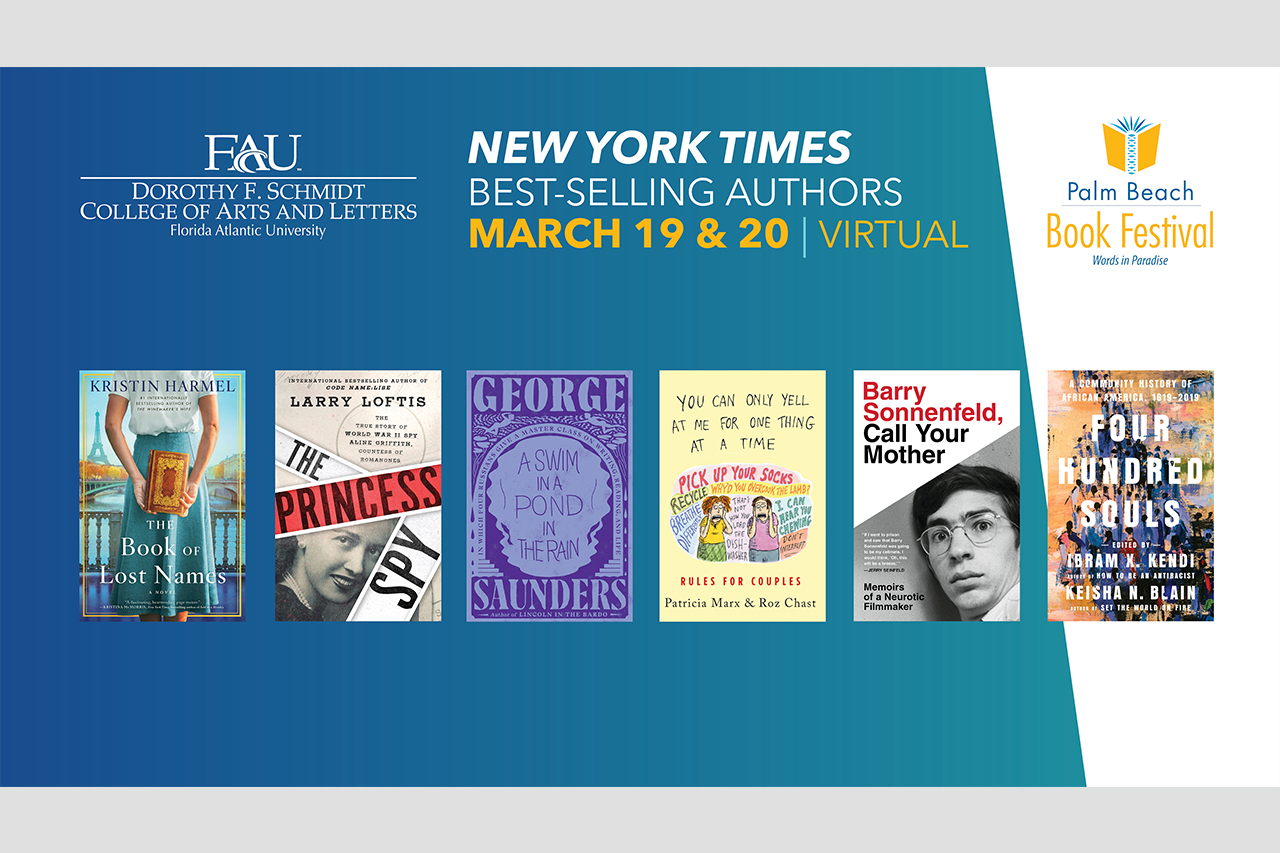 ---
Wednesday, Mar 17, 2021
Florida Atlantic University's Dorothy F. Schmidt College of Arts and Letters will host the seventh annual Palm Beach Book Festival with an exciting group of New York Times bestselling authors. The festival will take place virtually on Friday, March 19 and Saturday, March 20. Tickets for each session are $10 and all three sessions are $25. Books are offered at a discounted rate with the purchase of event tickets, and the first 50 books of each title purchased through FAU will be signed by the author. Free shipping is available or the books can be picked up at the FAU bookstore. Books and tickets are available at fauevents.com  or by calling 561-297-6124. 
The first panel is on Friday, March 19 at 4 p.m. and is titled "World War II Heroines in the Shadows: Codes, Cunning and Covert Ops." It will include Larry Loftis, author of "The Princess Spy" (recently added to the New York Times list of bestsellers) and Kristin Harmel, author of "The Book of Lost Names."
The second panel is on Saturday, March 20 at 10 a.m. featuring George Saunders, author of "A Swim in a Pond in the Rain," which was an instant New York Times bestseller. Saunders has written 10 books and teaches in the creative writing program at Syracuse University. This panel will be moderated by O Magazine editor Leigh Haber.
The bonus panel is on Saturday, March 20 at 1:30 p.m. and features Keisha N. Blain, the co-editor, with Ibram X. Kendi, of "Four Hundred Souls: A Community History of African America, 1619-2019." The book is a collection of essays by 90 black writers, poets and thinkers about 400 years of African American history. Blain will be interviewed by Candace Cunningham, FAU assistant professor of history.
The final panel is on Saturday, March 20 at 4 p.m. and is titled "You Don't Have to Be Jewish to Love this Panel!" The panel features Barry Sonnenfeld, movie director and author of "Barry Sonnenfeld, Call Your Mother!" in conversation with Patricia Marx, author of "You Can Only Yell at Me For One Thing at a Time."  
The Palm Beach Book Festival at FAU is sponsored by the Batmasian Family Foundation and the Cultural Council of Palm Beach County.