Barb Schmidt Fellowship
CULTIVATING COMMUNITY INVOLVEMENT, ADVOCACY,
AND SOCIAL CHANGE
Class of 2020-2021
During the course of the 2-semester Barb Schmidt Fellowship, fellows work in groups to development organizations to address issues they have identified and researched. These are intended to be ongoing, beyond the academic year. Contact information is included should you want to support their important work. 
@64pinkdots
64pinkdots@gmail.com
Gofundme: https://gofund.me/571556d3
Women should not have to make a choice each month if they can afford necessities like sanitary products. Therefore 64 Pink Dots was created; this is an organization created for women by women. The organization has the mission to help women live healthy lives each month by educating and distributing period products to those in need.
Kayah Garbutt
Yuri Garcia
Kenyce Johnson
Maria Veronica Macias
Mentor: Emily Briceno (BSF 2018-19)
@tpla
Our goals as the Teen Political Literacy Association (TPLA) are to educate our target audience, which is youth and local teenagers in Broward County on their civic duties, rights and responsibility as well as current events in the political realm. By doing this we are allowing local youth and teenagers to receive the information they need in order to form their own political opinions.
Jaila Bosket
Khamanie Dorsainrre
Aleena George
Hannah Tuttle
Mentor: Satviki Singh (BSF 2019-20)
@paceingproject
ThePACEingProject@gmail.com
https://msha.ke/thepaceingproject/
Every young student should have an outlet to find their sense of individuality and learn more about who they want to be. It is our mission to provide them with that outlet and include an educational component so they can flourish on their own and inspire others to aim higher for a brighter future. We seek to impact our community through partnership with organizations similar to us.
Katrina Dobinda
Megan Enriquez
Emaad Mirza
Kayla Simpson
Mentor: Elle Buckley (BSF 2018-19)
@food_fau
https://findoutopps.weebly.com
FOOD, Finding Outreach Opportunities Directly, was created by a group of young women with the intention of spreading awareness for the struggles of food insecurity through an innovative and practical method of connecting our community. Our organization had the aim of combating the notion that food insecurity and improper nutrition intake are foreign and distant issues.
Jayita Golam
Julia Lubitz
Emily Miranda
Victoria Ortiz
Leann Taylor
Mentor: Kylie Long (BSF 2019-20)
@anonymouslyunited
https://oshmitagolam8.wixsite.com/my-site
Gofundme: https://gofund.me/31a3b90c
Anonymously United is a student run organization that aims to help kids 12-18 with substance abuse and addiction. Our target audience are teens because we feel that teens are underrepresented in the addiction conversation.
Aidan Donev
Oshmita Golam
Shania McClendon
Alana Rahman
Daniel Wandzilak
Mentor: Alexia Renaud (BSF 2018-19)
@project.voice
projectvoice21@gmail.com
 https://projectvoice21.wixsite.com/website
Gofundme: https://gofund.me/6e9e35a2
Our goal in founding Project Voice is to raise awareness and inform the public about sexual assault, its prevalence and effects, through a variety of creative, interactive forums: such as through presentations, flyers, workshops, our website, and public events.
Trinity Macaluso
Sydney Richner
Aditi Sarkar
Mentor: Alan Halaly (BSF 2018-19)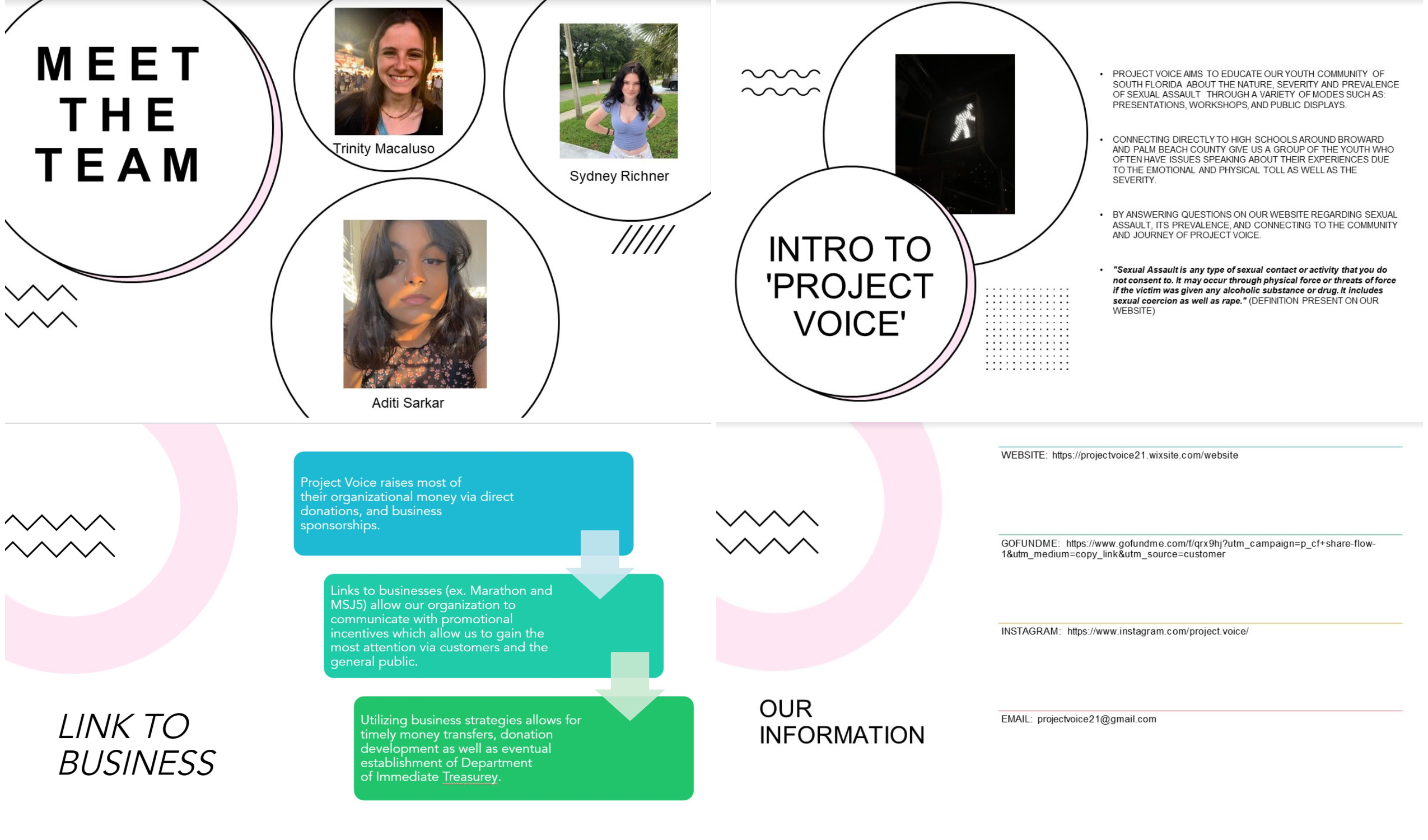 Jaila Bosket, Deerfield Beach High School
Katrina Dobinda, Florida Atlantic University High School
Aidan Donev, Florida Atlantic University High School 
Khamanie Dorsainrre, Deerfield Beach High School
Megan Enriquez, Grandview Preparatory School
Kayah Garbutt, South Broward High School 
Yuri Garcia, South Broward High School
Aleena George, Atlantic Technical College and High School 
Jayita Golam, Deerfield Beach High School
Oshmita Golam, Deerfield Beach High School
Kenyce Johnson, West Boca Raton Community High School
Julia Lubitz, The Kings Academy
Trinity Macaluso, Santaluces High School
Maria Veronica Macias, Cypress Bay High School
Shania McClendon, Atlantic Community High School
Emily Miranda, Florida Atlantic University High School 
Emaad Mirza, Florida Atlantic University High School
Victoria Ortiz, Fort Lauderdale High School
Alana Rahman, Florida Atlantic University High School
Sydney Richner, Florida Atlantic University High School
Aditi Sarkar, Deerfield Beach High School
Kayla Simpson, Florida Atlantic University High School
Leann Taylor, Santaluces Community High School
Hannah Tuttle, Florida Atlantic University High School
Daniel Wandzilak, Deerfield Beach High School
The Barb Schmidt Fellowship: Cultivating Community Involvement, Advocacy, and Social Change is a unique two-semester dual-enrollment program, which provides the tools and training for young activists, organizers and leaders to build and sustain social movements. The Fellowship is an innovative collaboration organized by faculty from across Florida Atlantic University in partnership with Peaceful Mind Peaceful Life, the non-profit founded by Barb Schmidt and Michelle Maros. The curriculum is underpinned by a strong ethos of mindfulness that prioritizes the self-care and sustainable expenditures of physical and emotional energy necessary for maximum impact in advocacy and activism.