Alumni updates
Latest Projects
The Safe Sex Project with Alumni Noor Arizaleta Kadhim, Keyuna Julien, Alexia Renaud, & 
Alan Halaly
@thesafesexproject

Contact: thesafesexproject@gmail.com or visit www.thesafesexproject.org 
Though going off to college in all directions, members of The Safe Sex Project continue their work.
Here was their Fall, 2019 Safe Sex Summit at FAU.
---
Surface 71 (Think Blue Go Green) with Alumna Emily Briceno
@surface71wpb
Surface 71 has 3 art sculptures- two of the three are on display at the Pat Johnson Historical Society Museum in West Palm Beach.

Partner with Friends of Palm Beach for monthly beach clean ups on Palm Beach

Installed 7 Elkay water stations in Palm Beach County Schools and four more stations will be installed in the coming months. 

Partner with Strawfish.co to provide local and national businesses alternatives to single-use plastics. 
Emily writes "Surface 71 is a 501c3 as of June 2019 thanks to BSF and the support that I received throughout the fellowship. The mentoring and all of the support that I received from FAU and BSF allowed me to start the nonprofit, Surface 71.  I can 100% say that Surface 71 would not be in existence today if I was not a fellow in BSF."
Contact: Surface71wpb@gmail.com or visit www.Surface71.org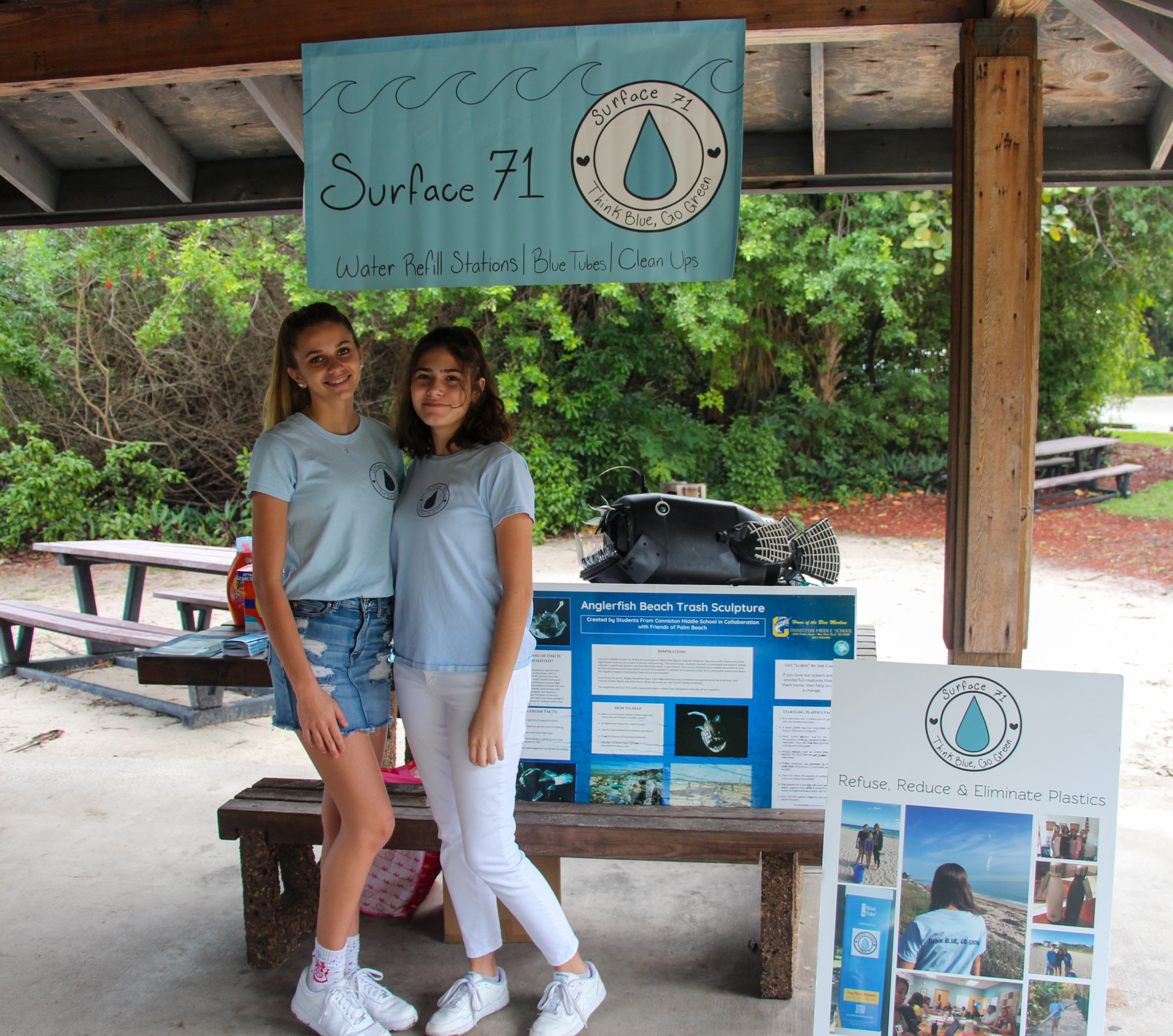 Emily and her co-founder Jemma Currie helped organize our Barb Schmidt Fellowship Beach Cleanup in Feb. 2020.
Where are our Fellows Now?
Keyuna Julien is majoring in Political Science, minoring in Women and Gender Studies & Public Administration 
Alan Halaly will be majoring in journalism and political science at University of Florida starting Fall 2020
Founded a TEDx youth license for his high school (TEDxYouth@DBHS, although the event did get canceled this year it will continue with a new group of seniors next year!)
Served as the Broward County Youth Chair for the environmental advocacy thinktank called republicEn this year founded by former Congressman Bob Inglis
Served on the Ted Deutch's Congressional Youth Cabinet as a delegate for 2019-2020
Interning with the Office of Congressman Ted Deutch for Summer 2020 
Alexia Renaud is attending University of South Florida, majoring in public health.
Peer Health Educator in the Center for Student Well-Being. As a peer health educator, she has been trained by the center to educate fellow college students on topics such as sexual health, stress management, general wellness, alcohol, and drugs and provide university and local resources for students to access.
Block-By-Block connector at the local community development center where she worked with a family in the University Area to provide social assistance to low-income residents. This included job preparedness, childcare services, local low cost healthcare, free language classes, and ways for residents to get involved in the community. 

Dedicated to the Safe Sex Project and will continue to work towards comprehensive and inclusive sexual education for youth.
Alexia writes "Overall, everything I am currently doing came directly from my experience in the fellowship. I cannot thank you all enough for allowing me to have this amazing support system that fostered my passion for social activism. I found my love of public health from the fellowship because it combines my love for activist and health, allowing me to create positive change in my community. You all will have a special place in my heart for all that you have taught me."
Noor Arizaleta Kadhim is entering the University of Florida's Honors program in the fall with a major in Public Health on a premed track and a minor in Nonprofit organizational leadership. 
Ahjanae Jones is finishing her first year at Florida Atlantic University
President | Bioethics Society 

Supplemental Instructor | Center for Learning and Student Success (CLASS) Mentor
Ahjanae joined BSF Director Karen Leader at an International Peace Day event where she shared insights from her time in the Barb Schmidt Fellowship